With the advent of Covid-19, thousands of people have to fit into our new world without any prior experience. Unemployment, or the loss of a customer base, as businesses floundered has become commonplace. As such, many have to find a new means of generating income. With face-to-face interaction minimal, we've needed to learn how to work from home and it hasn't been easy. Choosing a new career path has become an option and amateur writers have looked towards copywriting as a means of making money. With minimal experience, it is not always easy knowing how to become an effective remote copywriter. Here are some suggestions that may help:-
Equip Your Remote Office
An important part of working remotely is to ensure that you possess the proper equipment. Invest in a high speed internet connection – it is likely that much communication will take place via video or voice call and the need for a fast, reliable online connection is a necessity. Ensure your computer system is sound and that you have another means of connecting should you experience difficulties. Own an external hard drive for backup purposes and utilize the cloud wherever possible. Incorporate a UPS, a printer and a comfortable chair, and make sure your kettle is close for those necessary cups of coffee!
Identify Your Role
A copywriter's primary task is to generate sales through writing. Whether it be writing email campaigns, white papers, video scripts, micro-copy or copy for websites, the scribing of marketing content is a niche field. It requires research into markets, competition, audience, products and other industry-related factors. As a freelance or contracting copywriter you should identify areas where you already excel and others where you require improvement and further education.
Research your role. Visit blogs and read articles pertaining to your field. Assess your skill levels and decide whether you want to freelance or partner with an agency, contract, or work part time or full time.
Assess Your Income Opportunities
The world is your oyster. Be aware that your earning potential is vast but that walking into a top position when starting out is improbable. Entry level copywriters generally don't earn much but opportunities for financial growth, with experience and education, are impressive.
Many new copywriters initially choose permanent employment to hone their skills and experience. Growing and learning through a company is beneficial to both employer and copywriter as it enables both parties to define responsibilities within a single working environment. Don't expect to earn a huge amount with a single employer from the outset though. As you grow in your role and prove your worth, a good employer will recognize your value and remunerate you accordingly. Should this not happen, remember that every day in the position means you're enhancing your prospects through experience.
Freelancing and agency work is the realm of the experienced copywriter. Earning potential is far greater but competition means that you need to be on top of your game, with an ability to present excellent content. It requires lots of knowledgeable research and analysis for varying sectors of business. If this is your ultimate goal, bide your time and work hard towards achieving it. When you're confident of success, take the plunge.
Create Your Portfolio
As a writer, you've probably already got a collection of personal work. If so, make it available to prospective employers. A little online investigation will turn up a number of platforms to display your writing skills. Sites like Wix, WordPress and a number of others are quick and easy to use.
Network with Others
You will never gain more knowledge than by networking with others in your industry. Join social media groups dedicated to copywriting and connect with other copywriters wherever possible. Connections in related fields will gain you more industry exposure and make you more visible to agencies and employers. Share your expertise as you gain it and exchange ideas. This will only help you in the long run.
Find Your Niches
More than anybody else, you know where your interests lie and sectors that you will enjoy being a part of most. Write about these industries and topics related to them, enhancing your portfolio along the way. Just as a targeted google search will produce more useful results, so niche content on a portfolio will produce greater interest from potential employers.
Offer Skill Examples
If you are confident in your abilities, don't be afraid to offer to complete a sample project for a prospective employer. Employers are always happier employing someone based on the knowledge of what they can do for them specifically.
Write a Lot, Get Faster and Accept Criticism
The more you write the better your writing will become. Your speed at producing content will also improve which is imperative in the profession you are choosing. Always look at ways to enhance your writing and the styles used in copywriting. Welcome any constructive criticism of your work – even ask for it. The easiest ways to polish up your skills are by digesting the opinions of others.
Investigate Available and Useful Tools
There are numerous online tools which can assist with creativity, productivity, research and audience analysis. Investigate these and how they can help to produce your best copy. Tools like content generators help with writer's block. Numerous web pages and other online resources assist with skill-honing and idea research. Setting up a tool like Google Analytics on your personal website and familiarizing yourself with its operation will help to assess audience's habits and browsing methods in the future. Many more examples exist so examine the options yourself and decide what works best for you.
In Conclusion
Copywriting is an interesting and diverse field in business which will keep your creative mind active while nurturing your persuasive and analytical sides too. With the right attitude and motivation, working remotely as a copywriter will reward you in a number of ways. Slowly negotiate your chosen path and find your niches, while building your skills and knowledge in a remote career where you personally define where you end up.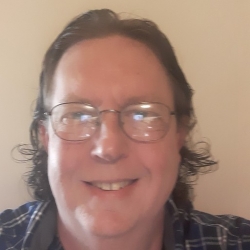 Latest posts by Warren Potter
(see all)
2