Video content is trending in the copywriting world right now, and numerous copywriters are making the most of this. In this article I will feature 13 Top YouTubers for Copywriters whose videos display valuable content that features prominently on YouTube.
Neville Medhora is the host of the Kopywriting Kourse YouTube channel, which has 59.8K subscribers. The channel is regularly updated and features numerous copywriting tips, reviews, interviews and general copywriting and marketing updates. Neville also hosts the Copywriting Course blog which can be found on his website.
Latest YouTube Video: Learning how to make images as a copywriters
One That Caught the Eye: Talking Conversion Rate Optimization, Copywriting, and Content Marketing for SEO with Peep Laja
Kevin Forister is an Associate Creative Director for an agency in Dallas, Texas. In his spare time he runs the Open Door Creative website, which is also the title of his YouTube channel. Although Kevin's video content is mainly focused on art direction, it also contains a wealth of information for copywriters and marketers. His 9.12K YouTube following is likely to include a number from these sectors of the creative field.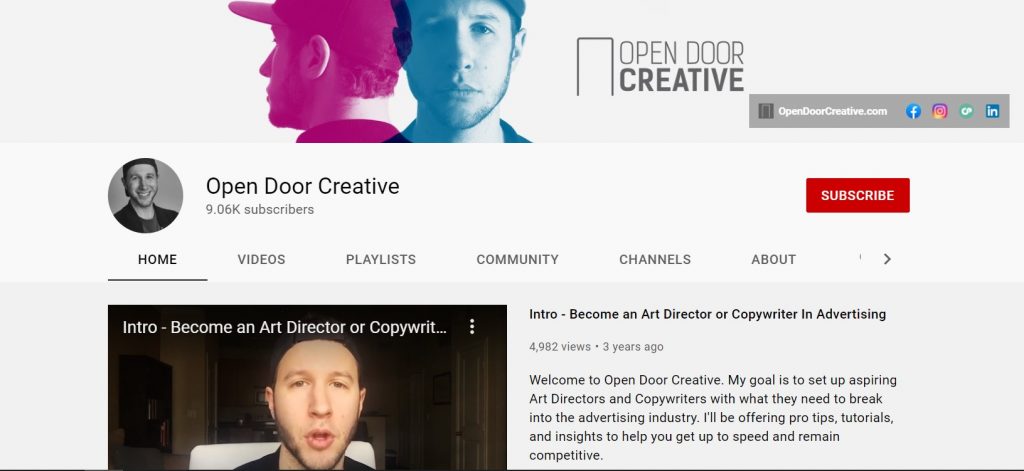 Latest YouTube Video: Call-A-Creative: You're In Control Of Your Career
One That Caught the Eye: Tons Of Tips For New Art Directors and Copywriters
Brian Dean is no stranger to SEO copywriters and content marketers. He is the founder of the established SEO training and link-building strategy website, Backlinko. His YouTube channel has 432K subscribers and contains an enormous amount of video content on SEO, content marketing and copywriting. If you need to brush up on your SEO, this is a good place to start.
Latest YouTube Video: How to Start (And Grow) a Blog in 2021
One That Caught the Eye: How to Rank #1 in Google in 2021 (7 New Strategies)
Alex Cattoni is a copywriter, marketer and founder of the Copy Posse website and blog. Alex posts to her YouTube channel every week, with tonnes of informative content about writing, copywriting, marketing and freelancing. Since 2017 she has built a YouTube following of 100K subscribers.
Latest YouTube Video: 3-Step Lead Magnet Tutorial: How To Create A High-Converting Lead Magnet
One That Caught the Eye: 6 Hottest Digital Marketing Trends To Watch Out For In 2021
Dan Lok is something of a social media legend. His Dan Lok Organization includes 24 different companies that build, advise and invest in people, ideas and business models. Lok's YouTube channel includes a wealth of advice and information on business-in-general, with its major focus being on sales, marketing and motivation. Copywriters will find a decent amount of valuable content included – there's something for everybody involved in marketing here and, with 3.6M YouTube subscribers, Dan Lok's expertise and advice is widely appreciated.
Latest YouTube Video: Clients Say "It's Too Expensive", And You Say…
One That Caught the Eye: Copywriting Secrets They Don't Want You To Know About
Sean Ogle lives a life that many of us dream about living. With his Location Rebel website he assists his audience with building online businesses that allow them the freedom to work in comfort and enjoy the lifestyles they truly yearn for. His YouTube channel, with a 28.7K subscriber base, does much the same. Copywriters will find value in a number of his videos, which range from tips for beginners through to freelancing and content strategies.
Latest YouTube Video: How to Convert Freelance Writing Leads to Clients (3 EASY STEPS)
One That Caught the Eye: How to Build a Writing Habit (and Why You Should)
KellyAnne Zielinski is an online business coach who, through her Self Leadership Global website and blog, imparts her experience and knowledge to other coaches, and those who are looking to start coaching. Her YouTube channel of the same name includes much valuable video content that will also be useful and informative to copywriters, digital marketers and content strategists. Since her debut on YouTube in 2017, with the assistance of her regular posts, KellyAnne has built a following of 6.84K subscribers.
Latest YouTube Video: Mental Health Tips For Coaches | How To Practice Self Love & Self Care
One That Caught the Eye: How to Gain Instagram Followers ORGANICALLY
Neil Patel is a renowned marketing influencer and New York Times bestselling author. His 905K YouTube subscribers look forward to the frequent new video content he posts, dealing with everything to do with digital marketing. Neil's well-known website and quality blog are further sources of invaluable information to copywriters, content strategists, SEO specialists and all other types of marketers.
Latest YouTube Video: Social Media Strategies To Boost Your SEO
One That Caught the Eye: How to Convert Blog Readers Into Customers
Roy Furr has a background in copywriting and direct response marketing, and regularly shares YouTube videos for his 2.96K subscribers on these topics, plus internet business building, advertising, sales and selling, personal development and more. Through his website, Breakthrough Marketing Secrets, and a popular podcast, Roy enhances the knowledge of his audience with constant new content.
Latest YouTube Video: HBO Max email marketing FAIL! [this just happened to me]
One That Caught the Eye: Communicating Emotion
Kyle Milligan is a copywriter who writes direct response sales letters for a living. He owns the Kyle The Writer website and runs a blog that shares his expertise with other copywriters in the hope of helping others to achieve greatness. His YouTube channel is full of video content for copywriters, and he updates for his 6K subscribers regularly.
Latest YouTube Video: How To Write A Sales Letter Like A Pro
One That Caught the Eye: 5 Copywriting Hooks That Dominate (And Make Millions)
Ashlyn Carter left the corporate world after a decade to begin freelancing. Through her Ashlyn Writes website, blog and YouTube channel she assists creatives in crafting their messages on the way to becoming successful freelancing entrepreneurs. Ashlyn's goal is to help her audience to increase their turnovers with strategic brand messaging that matches their personalities. Her YouTube channel, with 20.4K subscribers, features regular videos on website, SEO and email copywriting, plus tonnes of hints and tips.
Latest YouTube Video: Your COMPLETE GUIDE To A SUCCESSFUL Pre-Launch Marketing Strategy
One That Caught the Eye: What IS SEO Content Writing And How To Start Writing For SEO!
Elna Cain is a full-time freelance writer, blogger and YouTuber, with her own website and blog. She writes for small business and big brands in the digital marketing niche. The Elna Writes YouTube channel is full of videos on freelance writing, copywriting and blogging. Elna posts videos consistently and has a 6.07K subscriber base.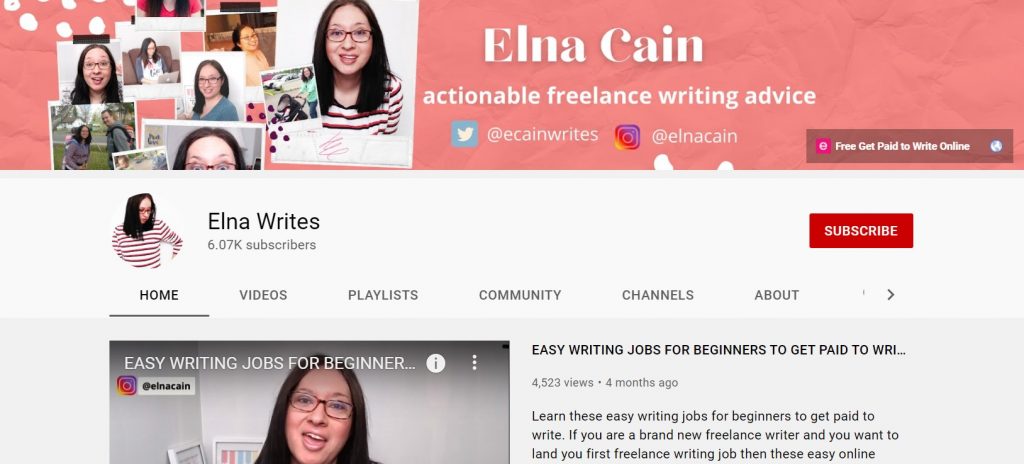 Latest YouTube Video: 4 CRITICAL Things I Wish I Knew Before I Began Freelance Writing
One That Caught the Eye: COPYWRITING VS CONTENT WRITING: What's the difference?
Jorden (Roper) Makelle is a freelance writer and copywriter who built her Writing Revolt brand through her blog and YouTube. She has 42.4K YouTube subscribers who watch her videos dealing with freelance writing, creative writing, copywriting and entrepreneurship. She includes reviews, tips and guides amongst her video posts.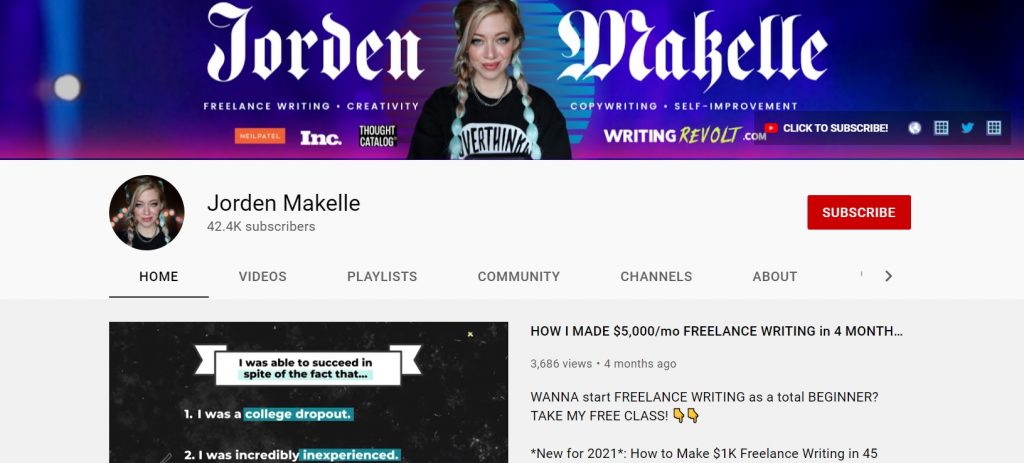 Latest YouTube Video: How Stephanie Made $2,500 FREELANCE WRITING in 30 DAYS!
One That Caught the Eye: How to Become a Freelance Copywriter with NO EXPERIENCE
You can never know TOO MUCH as a copywriter. With so many new ideas being exchanged by our peers, like those featured above, it benefits all of us a great deal to pay heed to the useful and informative content shared by these top 13 YouTubers for copywriters and the multitude of others with extensive knowledge in the industry.
Feel free to check out ContentBot's Video Ideas and Video Descriptions features.
3