Digital marketing; the way that organizations advertise their products and services online. It sounds straightforward at first, but in actuality, it's anything but. The fierce, growing competition makes fighting for the viewer's attention that much more of a challenge. 
When it comes to developing a new marketing strategy or campaign, there are multiple factors that need to be considered if it's going to be successful.
Current trends
Future trends and patterns
Consumer buying behavior
Technology
SMART objectives
Budget allocation
These are just a few things that digital marketers need to understand and research before they can think about their execution. Developing, implementing, and monitoring marketing strategies requires a specific set of skills that the average Joe may not possess. Digital marketing plays a crucial role in the survival of any business in today's market, whether they fall under e-commerce or not.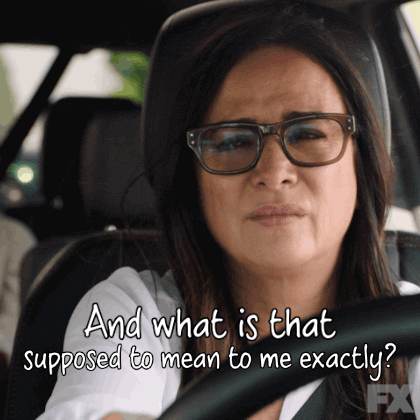 The importance of digital marketing for businesses
If you're not sure if investing in digital marketing is the right move for your company, then let's take a look at the benefits that come with this form of advertising.
Accessibility
Most of your modern day consumers make use of online searches to find out information. That applies to businesses, and their products and services. With digital marketing, you can give your audience what they want, when and how they want it. This is a way of presenting your brand to consumers in a way that resonates with them.
Affordability
Digital marketing offers a higher return on investment than traditional methods of advertising. Gone are the days of paper print outs and high development costs. Most social media platforms are free to use, such as Instagram and Facebook. Once you bring pay-per-click (PPC) marketing into the mix, your costs may fluctuate. However, even these marketing tactics have proven to be well worth their cost. Online marketing campaigns will be a fraction of the price, while reaching a wider audience.
Expand your reach
If you are putting your brand out there for the world to see, if you do it right, there is the potential for the world to actually see it. An important part of digital marketing is search engine optimization, or SEO. If you apply these principles correctly, you could increase your reach to an overwhelming number of people.
If you make use of social media marketing, PPC, or just want to rely on organic traffic, there is no comparison between the reach of digital marketing and traditional methods. If you want to get your name out there quicker, and in a way that gives you more control, then this may be the missing piece you've been looking for.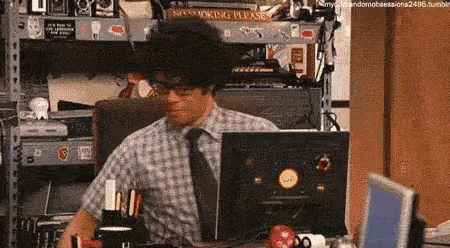 Flexibility
As I mentioned before, today's consumers are lazy. They don't want to have to search for hours to find what they're looking for online. 63% of all Google searches from the US are conducted on mobile devices. This means that mobile-friendly websites are a necessity for survival in today's market. Consumers now literally have the world at their fingertips. With digital marketing, this is easily achievable through responsive design and enhanced SEO. Again, you also have the choice between a multitude of different marketing platforms. This opens the door for creative freedom and experimentation for companies. 
It's more effective and efficient
The problem with traditional advertising is that you have no control over who sees it. You also have no way of tracking the effectiveness of your efforts. Digital marketing, on the other hand, gives you this and more. Thanks to advancements in AI and content automation tools especially, businesses can now target specific segments and population groups. It also gives them the opportunity to provide personalized and relevant content to their customers. This helps enhance their image and credibility as a brand. 
Measurability
This is easily one of the biggest perks of using digital marketing. Through platforms like Semrush, Google Analytics, and CRM systems, you will be able to keep track of customer engagement to a whole new level. You'll receive insights into whether or not your marketing campaign had the desired effect. This is measured using click-through rates, bounce rates, and by monitoring your key performance indicators (KPIs). You'll have the ability to tweak your future marketing strategies based on previous results. This in turn ensures that your marketing stays relevant, engaging and informative.
Competitive edge
Since the start of covid-19, certain patterns are starting to emerge in online activity. Today's population spends a lot of time on the internet. People around the world are spending an average of 401 minutes online every day. Marketers are finding new ways to use this to their advantage. If you aren't yet making use of digital marketing in your current strategy, I can almost guarantee that your competitors are. Adopting this form of advertising will help you stay relevant, and show that your brand keeps up with current trends. It's a way of putting your best foot forward, and showing consumers you are not going to be left behind. 
Interactivity
Digital marketing campaigns have the added benefit of being interactive. This means that you have a way of increasing engagement with your audience. Markers achieve this through email campaigns with links, social media polls, or just a simple call-to-action (CTA) displayed in your marketing message. The point of all digital marketing is to drive traffic back to your website. Posting an ad with a link back to the relevant page within your site is a simple and effective way to get viewers to interact with your brand.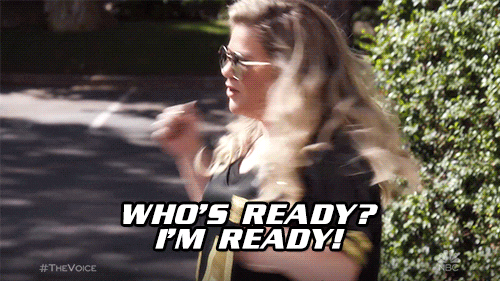 Ways to stay relevant in the Digital Marketing world
Stay up to date with industry trends
One of the best ways to do this is by attending industry-related events and conferences. Here, you'll hear about the latest trends, technologies and techniques. You'll also have the opportunity to meet other professionals in your field and expand your network.
It's important for marketers to be aware of the news and developments in their respective fields. For marketing managers and executives, it could be in the team's best interest to allocate a certain window of time each day to market research. This gives team members the freedom to find out about the latest trends in the industry, and help in staying ahead of the curve.
We'll give you an example. In 2023, there's a lot of emphasis on short-form video marketing. Yes, we're talking about TikTok, Instagram reels, the works. Many digital marketers are going to increase their spending on this specific marketing trend. But that's not all.
SEO is still seen as one of the most important skills that a digital marketer can possess. It now needs to be applied regardless of your platform of choice. TikTok, social media, YouTube, they all require special attention to SEO in order to have the impact you're hoping for. If marketers want to keep up with their competitors, they especially need to keep up with current SEO trends.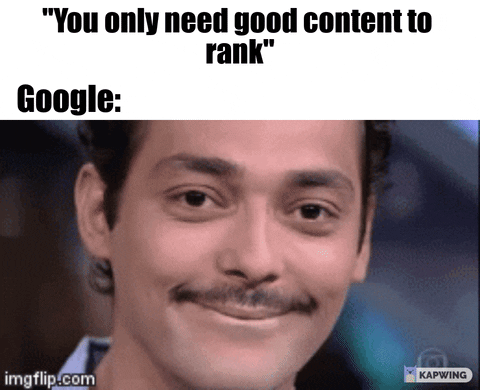 Work on skill development
As we've just mentioned, SEO is a necessary skill if digital marketers want to keep up with competition. It's not enough to create valuable content that could be valuable if your audience can't find it. Consider SEO your digital roadmap for viewers to find your content.
In an extremely volatile market, one of the best things a digital marketer can do is invest in themselves. If you want to learn how to effectively apply SEO tactics, or improve your content writing skills, then find an online course that can teach you how to do exactly that. Getting certified in various areas of expertise will do more than attract readers. It will enhance your credibility and put you in a position to be seen as an expert in your industry. This will naturally draw more attention to your content and enhance your online presence.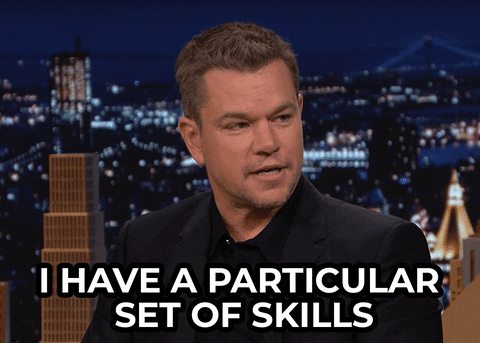 Build a strong online presence
Establishing credibility in a saturated market can be a challenge all on its own. Countless businesses are constantly battling it out for their chance in the spotlight. There are a few ways that marketers can help their companies build a strong online presence:
Have a responsive and easy to navigate website.
We'll say it again – enhance your SEO skills.
Try to achieve consistency in your online activity.
Produce high quality content that provides value for readers.
Use data-driven insights to adjust your strategy where necessary.
Work on your networking and collaboration within your niche.
If you want your presence to be known in the digital world, then you need to expand your reach beyond having a simple website. Involving the various social media platforms, from Instagram to LinkedIn, will help you drastically increase your reach and market exposure. You'll also have the added benefit of easily shareable content, allowing consumers to interact with your brand in a way that they appreciate.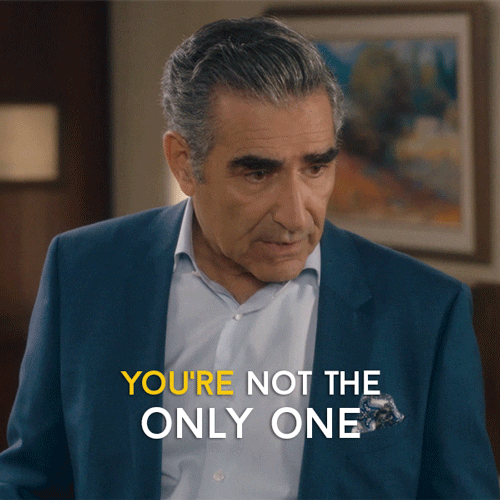 Network and collaborate
One of the best ways to strengthen your online presence is by forming partnerships. Digital marketers need to find ways to establish relationships within their fields. A mutually beneficial collaboration could hold big advantages for both parties involved. Receiving a recommendation  from an influencer helps improve their image, as well as your own. As I've mentioned before, staying on top of current trends is essential for survival. You should know that 1 in 4 marketers are already making use of influencer marketing, since 50% of millennials trust these product recommendations. 
There's also the option to join professional associations within your niche. This paves the way for establishing yourself among your peers, so to speak. You're creating awareness, while at the same time observing your competition. It's also a good idea to consider your social media connections. Following industry thought-leaders and influential members can help you stay up to date on the latest insights and ideas. Make sure to engage with their content by sharing, commenting and asking questions.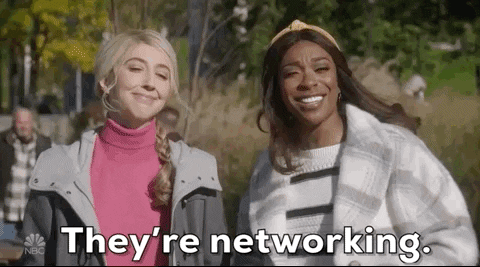 Stay adaptable and flexible
When it comes to digital marketing, it really is "adapt or die". The market is more volatile than most, with rapidly changing trends and the struggle to stay relevant. It's important to constantly evaluate and adjust your marketing strategies to suit your audience and their current tastes.
A part of being flexible is being willing to try new things. This includes experimenting with new technologies and innovations. In fact, more than 80% of industry experts are using some form of AI technology in their online marketing activities. If you want to be taken seriously and keep up with the times, then you need to find ways to use this technology to your advantage.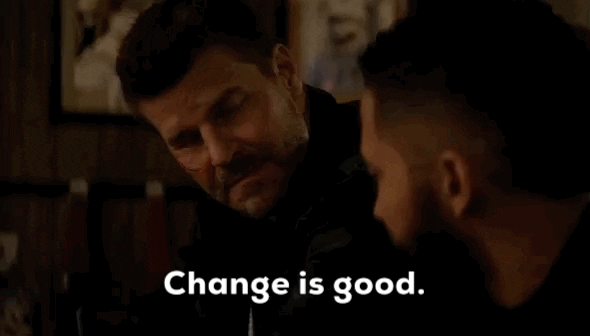 Use technology to your advantage
Artificial intelligence has come so far since its early development. It is quickly making its way into every industry, from hospitality and fashion, to freight and marketing. One of the main benefits is the data-driven insights that this technology provides. Using it gives people an insider's perspective into their consumers' spending habits and preferences. This information has the potential to revolutionize the way you conduct your marketing efforts.
Content automation is one of the most popular uses for AI in the marketing world. There are simple automations, such as brand descriptions and Twitter announcements, and more advanced tools, like ContentBot's Flow builder and Imports feature. What you decide to use will depend on your specific needs and target audience. 
Let's use an example. You need to generate a daily Tweet about content marketing. This Tweet should be sent to your email's inbox for approval, and once it's been approved, be posted straight to your Twitter account. If you're not happy with the Tweet, the AI must generate the content until you are satisfied. Sounds simple enough. Here's what they workflow would look like using the Flow builder: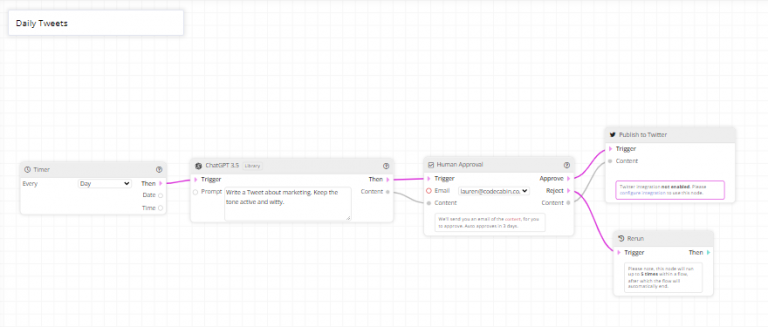 So, in a nutshell…
Staying relevant in a volatile, ever-evolving market is not even close to being easy. Digital marketers have to consider industry trends, client requests, branding, consumer buying behavior, technological advancements, and more to give their campaigns the best chance at success.
AI is quickly making a name for itself, and the advantages it could hold for digital marketers cannot be overstated. From AI writers to content automation, it's a tool that every marketer should have in their wheelhouse if they want to be taken seriously in their respective industries. It will help you upscale your marketing, while ensuring quality and cost efficiency. You can create your own custom workflows that suit your specific needs, and track the performance of your teams and campaigns. The best part is – this is all manageable from one central platform!
The strength of a business's online presence could make or break their reputation. Consistency, branding, networking, SEO; these factors all have a huge impact on establishing yourself among your online competitors. In a market that seems to change from day to day, your adaptability and flexibility could mean the difference between success and failure. Remember to invest in yourself and your skills if you want to be seen as a force to be reckoned with.
How do you maintain a strong online presence? What ways do you find helpful in staying relevant in the world of digital marketing? Let us know in the comments section!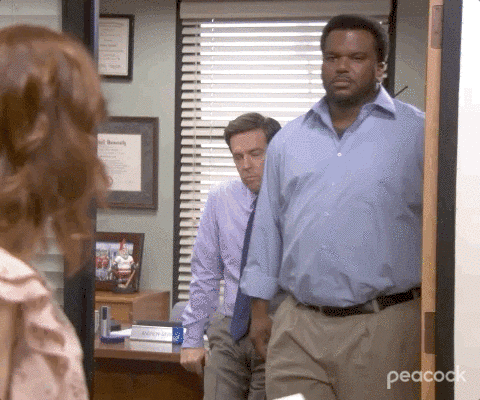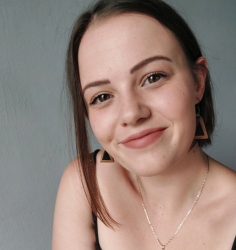 Latest posts by Lauren Meyer
(see all)
0