The world of artificial intelligence (AI) is evolving at a rapid pace. It's changing the way that people live, work and think. In recent years, this technology has been making waves in the content writing industry, with AI writers increasing in popularity. While these writers aren't yet capable of producing content that meets the quality of human writing, they can easily be used to quickly generate content that is well-structured and free from errors.
As stated in our previous article, "An AI writer is software that makes use of artificial intelligence to predict text based on input that you supply it. AI writers are capable of creating marketing copy, landing pages, blog topic ideas, slogans, brand names, lyrics, and even full blog posts." People were hesitant to welcome this new technology at first, until they had the opportunity to try it for themselves. Now, 91.5% of leading businesses are investing in AI on a regular basis. 
The benefits of incorporating an AI writer into your marketing strategy are undeniable. A recent article showed that it takes the average person just over 4 hours to write a blog post that is close to 1500 words. Now, thanks to the development of AI writers, this same task can take just 30 seconds (without editing and proof-reading, of course!). They can be used to create long-form content, with some being capable of producing entire blog posts, along with short-form copy and idea generation. You'll be able to generate quality content on demand, avoid writer's block and increase your return on investment. 
In this article, we've listed 5 of the best free AI writers to use in 2023, based on personal experience and customer reviews. Each writer has been tested against specific criteria, and given an overall rating out of five stars for each category. Let's take a closer look at what these platforms have to offer their non-paying customers.
1. ContentBot.ai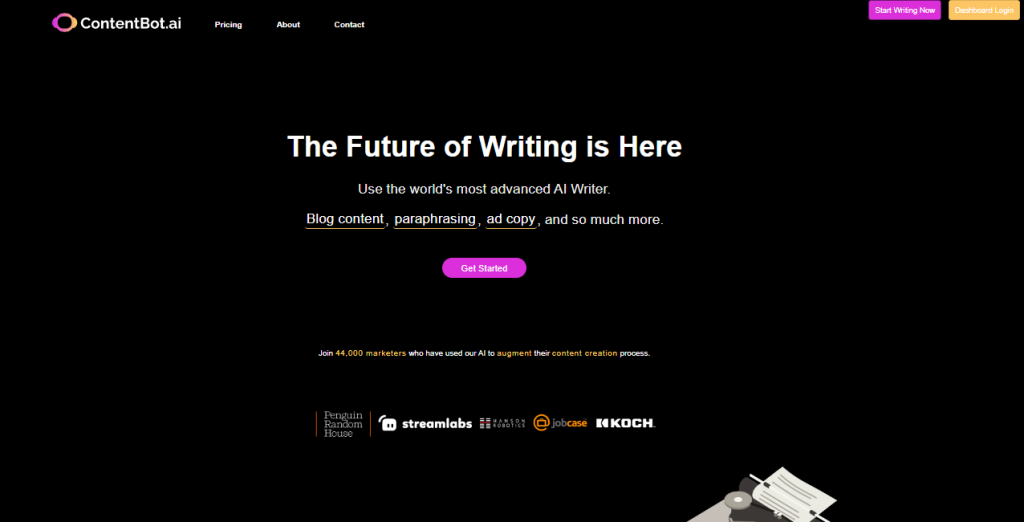 This company makes use of a variety of different AI models, the main one being GPT-3. This language model uses deep learning to create text that is almost human-like. With tools helping to create blog content, including full blog posts, marketing copy and automated inspiration, ContentBot has it all. They offer content in over 100 different languages, and a number of tones to suit your style of writing.
Using a free demo account, you'll have access to:
5000 words (can be extended on request)
Create content in over 100 languages
Full access to their wide range of tools
Blog copy – full blog posts, or "write for me" tools written in a tone of your choice
SEO reports – in-depth SEO reports
Automation tools – blog posts automatically created and sent to your inbox
Paraphrasing Tool – rephrase just about anything
Plagiarism checker
Short form copy – blog intros, conclusions, listicles, etc.
Marketing copy – Google and Facebook ads, landing pages, etc.
Sales content – pitch me, sales emails, etc.
Social media content – tweets and photo captions
The list goes on!
ContentBot's prices range anywhere from a Prepaid option, where you'll pay $1 for every 1000 words, which excludes the plagiarism checker and automation features, to the Premium+ bundle that goes so far as to offer two human-enhanced AI blog posts written for you each month, on a topic of your choosing. There is also a Chrome extension available for efficiency.
Review
Content output quality ⭐⭐⭐⭐
This writer produces content that is easy to read, in the tone that you have selected and with subheadings already in place. There is an option to receive the SEO report to ensure the quality meets your standards. You will need to do the occasional fact check and scan for repetition when proofreading your content.
The platform is easy to navigate and use, with options being generated for each tool's output in order to find the content that best meets your requirements. From a first time user's perspective, it's uncomplicated and a simple solution for marketing purposes. The new drag and drop feature makes usability a breeze.
You have the choice between different tones and writing styles, including selection between the Hemingway and Carroll AI writing models. While there could be a few more options regarding the tones, the existing variety offers enough of a selection. If you opt to receive three output suggestions, the content produced is bound to meet your needs.
Plagiarism and paraphrasing ⭐⭐⭐⭐⭐
Again, the paraphrasing tool provides options. You are able to select the variation that you prefer from a generated list. The plagiarism checker is fast, and an overview is added to your SEO report.
Customer reviews indicate that ContentBot has a speedy response time, with a team that is always eager to help where they can.
2. Rytr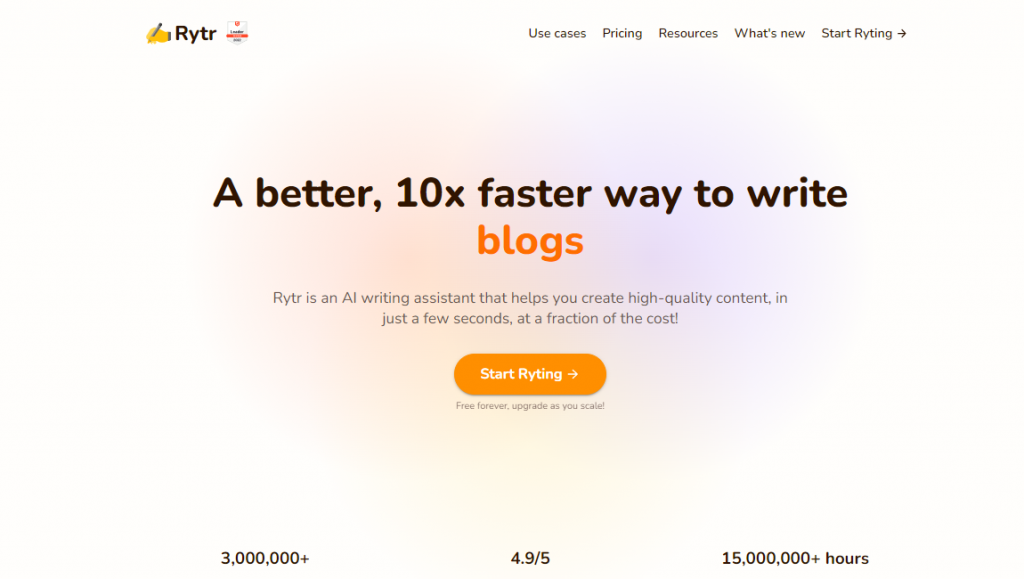 This assistant uses language AI to create content that is both unique and original. With over 40 templates and 30 languages to choose from, along with 20 possible tones to write in, it's not surprising that Rytr is on our list of AI writers to try next year. Their list of tools allows you to expand, reword and shorten statements, as well as check for grammar and plagiarism along the way.
With their free plan, you're able to:
Generate 10 000 characters per month (around 2200 words)
Access all 40 uses
Use all 30 languages
Write in 20 tones
This is a pretty extensive package that is free to use. Prices then start at $9 per month, enabling you to create your own custom use-case. For an unlimited plan, you are looking to pay $29 a month for a dedicated account manager and priority customer support. Overall, it's an affordable option for small business owners, and should assist in general content creation.
Review
Content output quality ⭐⭐⭐
While the content was written in a simple language that was easy to understand, there was noticeable repetition in the text that was generated.
All the options for writing different types of content, as well as the tone and language selections, were in a central location and could be changed at any time. This made it easy to navigate for a first time user.
The 20 different tones make it easy to alter the text to suit your specific needs and requirements, ranging from passionate and thoughtful, to enthusiastic and funny.
Plagiarism and paraphrasing ⭐⭐⭐
The paraphraser was underwhelming, with words typically being reshuffled rather than rephrased, and you'll need to regenerate each time you're not satisfied with the result.
Based on customer feedback, Rytr provides adequate customer support in a timely fashion.
3. Smodin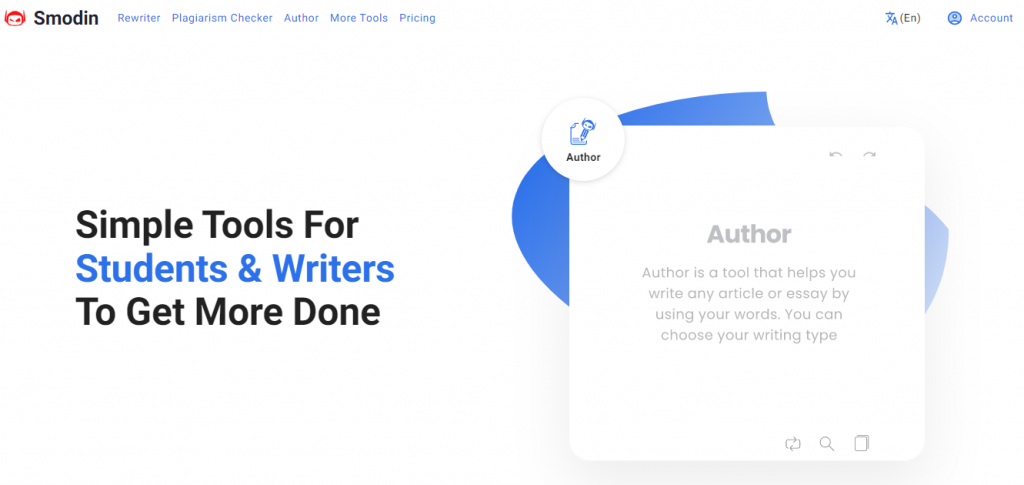 Unlike the other AI writers listed in this blog, this one is particularly aimed at students to address challenges regarding learning. This platform translates to an amazing 47 languages, and hosts a wide range of tools to choose from, including a plagiarism checker, rewriter and summarizer.
Using Smodin's free plan, you receive:
3 writing credits per day
5 daily entries for the rewriter, translator and plagiarism checker
1000 characters
For prices starting at $10 a month, you have access to an unlimited number of rewrites, checks and translations. The $29 per month package includes 1 million character rewrites, along with access to long-form content writing. In comparison, the free package is quite limiting when it comes to the available tools.
Review
Content output quality ⭐⭐⭐
Once headings and outlines have been selected, the content is generated in a reasonable amount of time. Though the options for subheadings were limited, the text was easy to read and uncomplicated. The content produced is fairly short, but enough to get you started when creating long-form content.
Navigation of this website was slightly more complex, with each tool placed on a separate page. Though with some time, the platform was simple to navigate.
Aside from the option to translate into a wide variety of different languages, the personalization options for this writing are minimal. With no choice on the tone of writing, this platform is definitely better suited to students than blog writers.
Plagiarism and paraphrasing ⭐⭐⭐
The plagiarism checker returned results almost as soon as they were requested. However, the paraphrasing tool is lackluster, with words again being rearranged, rather than offering a new sentence structure.
Taking a look at customer reviews showed that Smodin takes their customer's concerns seriously, and tries to solve their problems as quickly as possible.
4. Simplified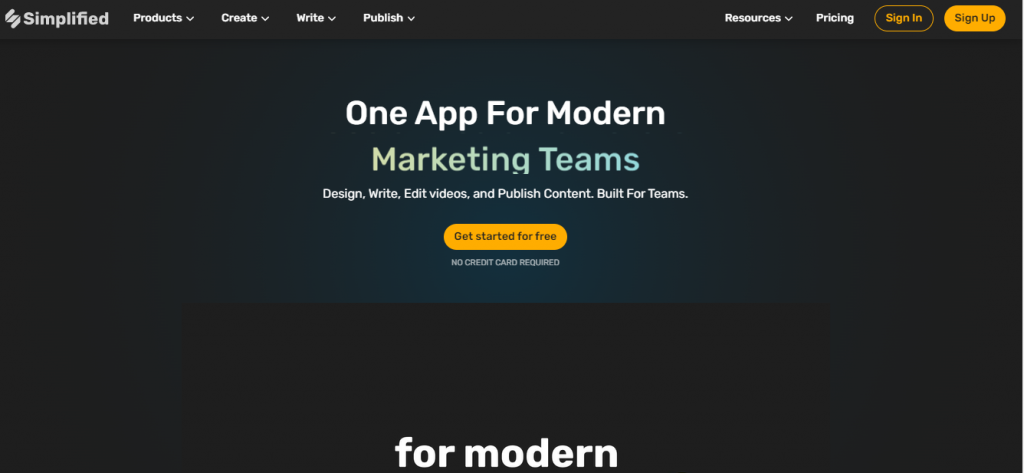 This platform advertises themselves as a simplified, no-code sign tool that is made for everyone. With tools to assist in writing for social media, blogs and ecommerce, that statement is believable. Simplified also offers content in 23 different languages, and to write in your choice of 12 tone selections.
The AI writing options in their free package include:
1000 words per month
More than 60 templates to choose from
Access to the short-form writer
Unfortunately, the language options are only available for paying members, and you won't be able to download the content as a document. Pricing options start at $30 per month for up to five users, allowing you access to both of these features, as well as 25 000 words and the option to publish to WordPress. They also offer a Chrome extension for easy access.
Review
Content output quality ⭐⭐⭐
The content generation was produced in a few seconds, however when the "generate more" option was selected, the writer simply repeated itself. This issue appears to only occur from time to time, and the content is still adequate.
In comparison with the other AI writers in this article, this one had the most complicated user experience. Tools are placed in separate locations, and it takes a moment to figure out how each one operates.
There are a number of tones to choose from, based on your own personal style of writing. Whether you prefer an informal approach, or to write from a pessimistic perspective, the options vary depending on your needs at the time.
Plagiarism and paraphrasing
This platform doesn't offer any plagiarism or paraphrasing tools.
According to customer reviews, while they are good at solving customer complaints, customers don't always receive a quick response.
5. Wordtune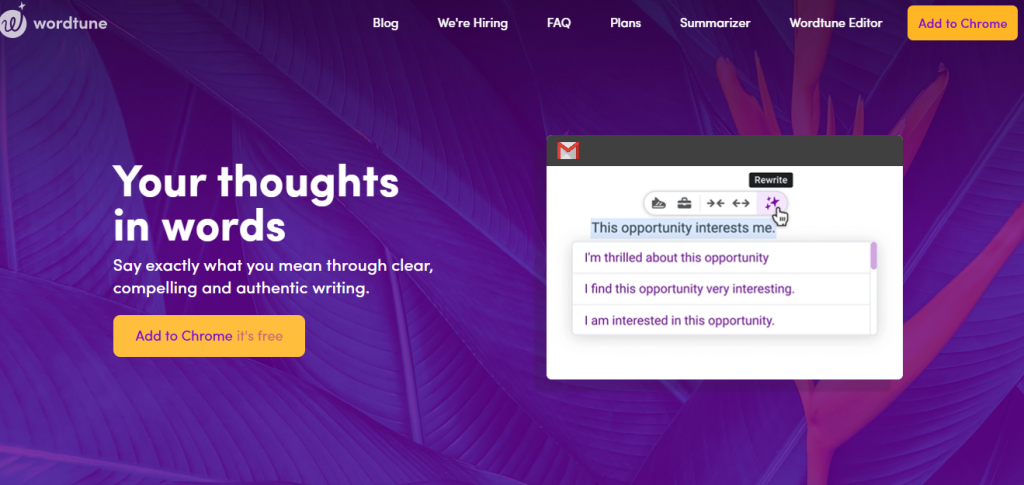 This platform refers to itself as an AI-powered writing companion. The writer is programmed to understand what you are trying to say, and offer suggestions to enhance the clarity and authenticity of the content. The Chrome extension for convenience is a positive addition.
The free plan grants users 10 total rewrites per day, with tools including:
Rewrites
Casual and formal tones
Shorten and expansion features
Pricing for the paid plans start at $24,99, offering unlimited access to tools, as well as premium customer support. There is also an option to get in touch with Wordtune regarding team billing options.
Review
Content output quality ⭐⭐⭐⭐
The content output is suitable for everyday use, with options available if you are not satisfied with the initial outcome.
The site allows for simple navigation and use. The tools are easy to find and incorporate into your content. It is suitable for a first time user.
The free plan only gives an option between casual and formal writing, limiting the personalization that can be applied.
Plagiarism and paraphrasing ⭐⭐
While there are a number of options regarding the rewriting feature, it only permits one sentence rewrite at a time. This makes for a slow process. The plagiarism checker is fast and accurate.
When reviewing customer feedback, it's clear that Wordtune's customer service is not satisfactory, with lengthy response times and inadequate solutions being offered.
To wrap up
AI writing is still a relatively new concept, and it is essential to do your research as a potential customer. When it comes to free options, quality of the content produced should be a major determining factor in which platform you select. The key is to understand the capabilities of AI content creation, and identify a service or product that can fit your strategy. With so many AI products and services on the market today, you can make an informed decision that will help you level up your content marketing game.
If you have tried ContentBot's free demo account, please let us know your thoughts in the comments. To read more about finding the right AI writer for your needs, click here.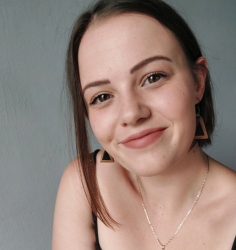 Latest posts by Lauren Meyer
(see all)
0