What is user research? Simply put, it is research conducted by designers, content strategists and copywriters into the needs and wants of users of their ideas, products or services. There are many forms of user research. The earlier you can incorporate some of these into a design process, the more likely you are to transform your idea into a user-friendly and sought-after product. Continued research will keep it that way. Let's delve into the benefits of user research, especially concerning copywriters.
User Research in a Nutshell
User Research is primarily made up of four elements:
Behavioural Research: Observing what users do
Attitudinal Research: Observing what users say
Qualitative Research: Collecting user data through open-ended and conversational communication
Quantitative Research: Collecting and analysing numerical user data
A widely-utilized diagram by Christian Rohrer of the Nielsen Norman Group simplifies the explanation of when to use the four categories of User Research correctly.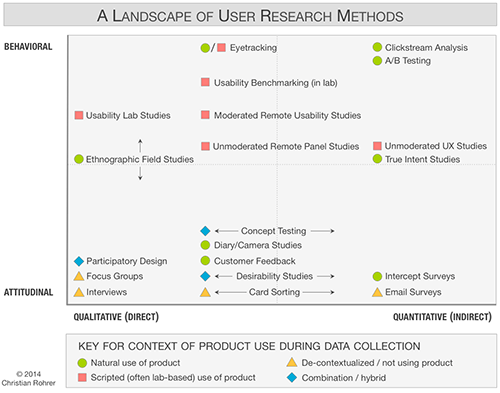 The Design Process
Many designers make the mistake of delving head first into their concept without taking their prospective users' needs into account. As a designer, do you consider your end user when planning a prototypes? Do you think of the simplicity of your layout, your colour scheme, your language? When formulating your idea, take some time to watch your potential users' habits to develop an understanding of their expectations. Then analyse the gathered results and incorporate these into building your model.
This user research will benefit your microcopy and other copywriting as you develop a clearer idea of requirements needed to make your user experience more pleasurable, meaning less adjustments to coding and an easier setup task for your copywriter too.
Going Live
Once coded and released into the public domain, a Copywriter's role in a product's development becomes important. All four research elements can be used to gauge user satisfaction through some of the following methods:-
Support tickets: Designers will gain valuable information on any improvements required, and you, the copywriter, will be able to sharpen up any microcopy inadequacies.
Diary studies: With these you can read into how your users write. If the majority aren't concerned with punctuation or capitalization you could favour a more casual layout and use a different tone of writing than for users who are more formally-minded.
Interviews: Recognised as the most informative form of User Research, interviews allow team members to engage with individual users in a natural, conversational manner. As a copywriter it is important to observe interviews even if you don't conduct them yourself. Hence you will develop a fundamental knowledge and be able to personify users, assisting with your copy.
Focus groups: Hearing multiple users converse assists in gaining copy information for public projects. Press releases, advertising and in-your-face marketing styles benefit from focus group research.
A/B testing: These give a copywriter valuable input on the path going forward. Whether moderated or unmoderated, feedback given on whether A or B is a preferred option gives you a solid foundation when creating future copy for a project.
Surveys: These quantitative methods of research are invaluable in the long term. Users continually change and conducting targeted surveys will give you a good idea of whether to maintain or change course going forward.
Analytic Tools: Continued assessment of your product users enables you to maintain a style suitable to growing your customer base. This enhancing your chances for further conversions. These tools also give insight into future targeted promotions and their potential for success.
In Conclusion
From a product's birth; the conception of an idea, good user research provides valuable and necessary input that can grow its success, popularity and longevity. Combined involvement of design, creative and marketing teams from the outset will enhance the growth rate of a product. User research conducted and shared between each department encourages a smooth transition from initial idea to successful maturity. Great teamwork provides the ultimate insight into the benefits of user research.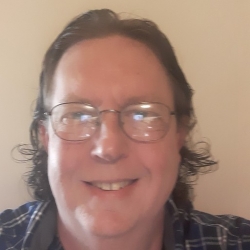 Latest posts by Warren Potter
(see all)
1