(updated: May 13, 2021)
Social media has become a core element in the field of content marketing, and many of the top professionals in the industry have made their presence felt in a larger way than ever before. We've decided to look at 25 of the Top Content Marketers on Twitter, with the only inclusion proviso being that the Twitter account must have been active during the current year:-
01. Seth Godin
For more than thirty years, Seth Godin has been trying to turn on lights, inspire people and teach them how to level up. He has spent most of my professional life as a writer, publishing 19 bestselling books. His latest book is called The Practice and, like the one before it, This is Marketing, has achieved bestseller status.
In 2015, Seth created the altMBA, a life-changing 30-day workshop. More than 60,000 people have taken his online courses, including The Marketing Seminar and several others on Udemy. Seth is in the Guerrilla Marketing Hall of Fame, the Direct Marketing Hall of Fame and, just recently, the Marketing Hall of Fame. Seth Godin runs a blog, aptly called Seth's Blog, and his Twitter following is a massive 760.9K.
Seth Godin's Twitter account: @ThisIsSethsBlog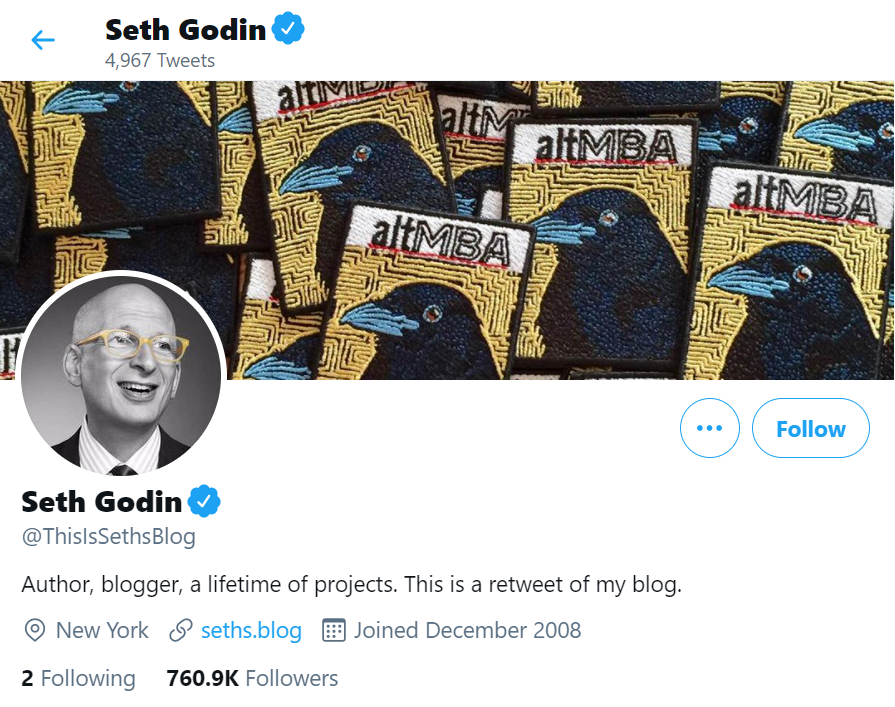 02. Ann Handley
Ann Handley is a writer, digital marketing pioneer, and Wall Street Journal best-selling author. She writes and speaks about how businesses can escape marketing mediocrity to achieve tangible results, and she will inspire you to do work you're proud of. Her company, MarketingProfs, is a marketing training and education company with more than 600,000 subscribers. Ann's previous company, ClickZ, is one of the first sources of digital marketing information in the world. She sold the company in 2000, a lifetime ago in internet years.
Ann's books have been translated into 19 languages, including Turkish, Korean, Italian, Chinese, and Japanese. She is consistently named one of the most influential marketers on social media and has contributed commentary and bylines to Entrepreneur magazine, IBM's Think Marketing, Inc. magazine, Mashable, the Huffington Post, American Express, NPR, and the Wall Street Journal. Ann was cited in Forbes as a top thought leader and was named by IBM as one of the 7 people shaping modern marketing. Ann Handley is followed by 459.4 people on Twitter.
Ann Handley's Twitter account: @MarketingProfs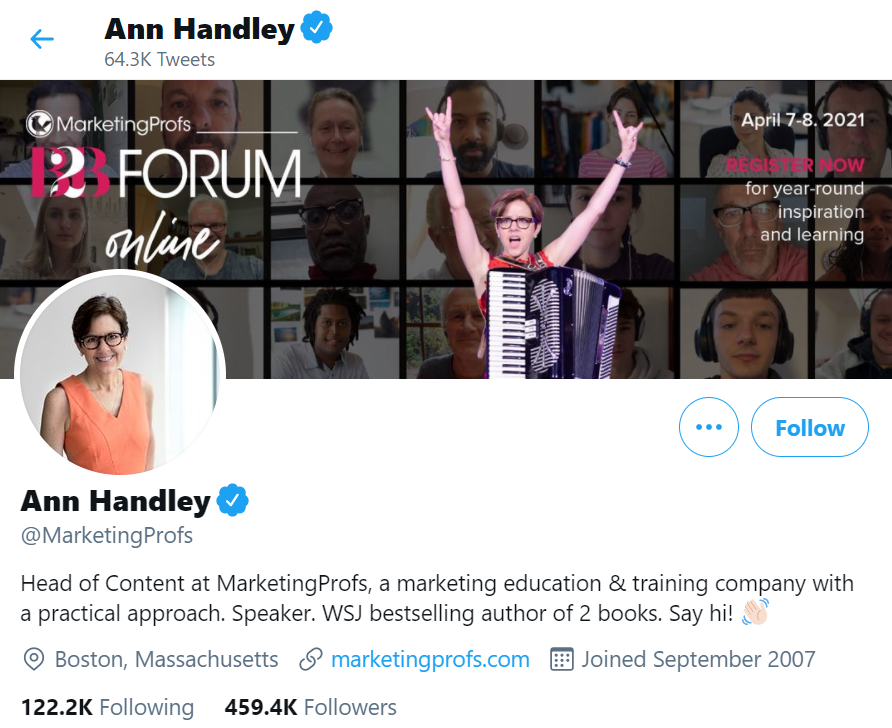 03. Sandi Krakowski
Sandi Krakowski is an 'out of every box' author and speaker, top social media influencer, thought leader, and culture creator. She started her first multi-million dollar corporation as a young mom, overcoming many of her own obstacles, both personally and professionally. She is the founder and president of her current company, a $20M dollar empire, A Real Change International, Inc. and Sandpaper Tablet, Inc.
Sandi has spent more than two decades working successfully in online marketing and business development. A noted Facebook marketing expert, she was named by Forbes as a "Top 20 Online Marketing Influencer", in the "Top 20 Women Social Media Influencers" and as a "Top 50 Social Media Power Influencer". She has helped build 18 companies by utilizing her experience in eCommerce, internet marketing, direct response marketing, publishing, book creation, copywriting, sales and management, team development and leadership. Sandi Krakowski has a Twitter following of 266.9K followers.
Sandi Krakowski's Twitter account: @sandikrakowski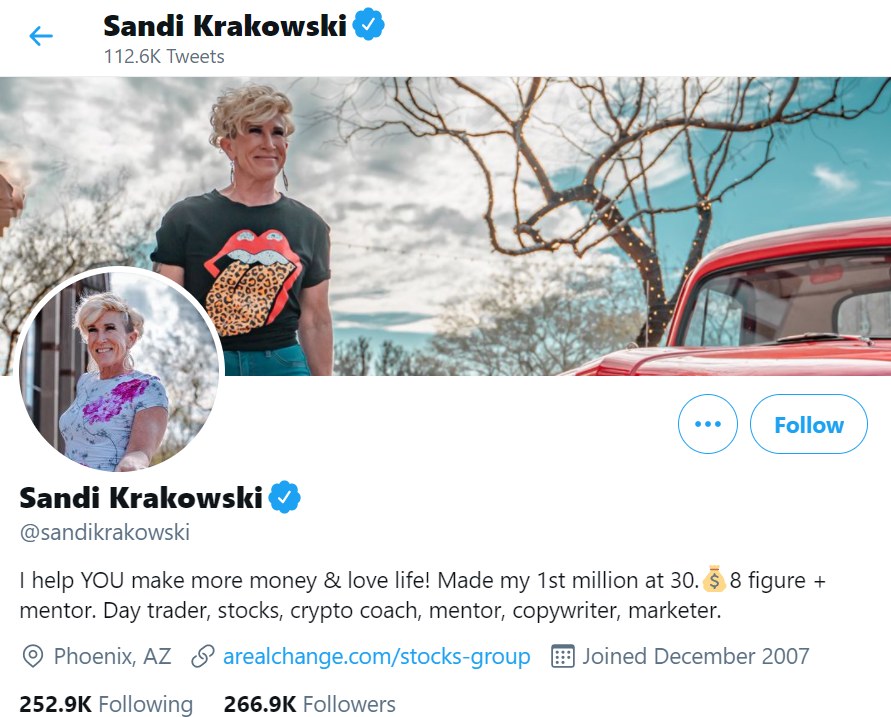 04. Brian Clark
Brian Clark began publishing online in 1998. In 2006 he started a one-man website called Copyblogger, which quickly developed into a digital trade magazine influencing the content marketing industry. He describes himself as a writer, traveller and serial digital entrepreneur, with the latter becoming more and more evident with his penchant for starting businesses. Brian has founded over 20 businesses, including Further, a midlife personal growth newsletter, and Unemployable, an educational website and podcast providing strategy help for entrepreneurs and freelancers.

Clark recently stepped down as CEO of Copyblogger to concentrate on his other ventures. In a Copyblogger blog post he stated, "I'll be the strategy guy and brand evangelist over there." If his strategic skills with Copyblogger are anything to go by, Further and Unemployable are in great hands. Brian Clark has 170.6K Twitter followers.
Brian Clark's Twitter account: @brianclark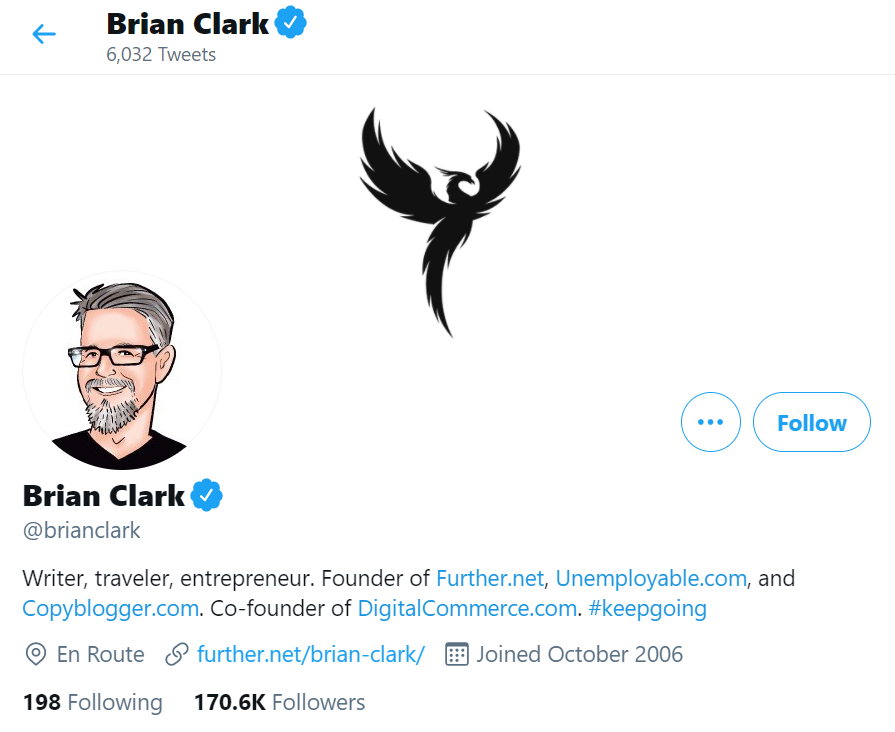 05. Joe Pulizzi
Joe Pulizzi is the Amazon bestselling author of Content Inc., Killing Marketing and Epic Content Marketing, which was named a "Must-Read Business Book" by Fortune Magazine. His novel, The Will to Die, was awarded "Best Suspense Book" of 2020 by the National Indie Excellence Awards. Joe has founded four companies including digital content news site, The Tilt, as well as the Content Marketing Institute.
In 2014, he received the "Lifetime Achievement Award" by the Content Council. His podcast series, This Old Marketing with Robert Rose, has millions of downloads from over 150 countries. His Foundation, The Orange Effect, delivers speech therapy and technology services to children in over 35 states. Joe Pulizzi has a following of 153.3K people on Twitter.
Joe Pulizzi's Twitter account: @JoePulizzi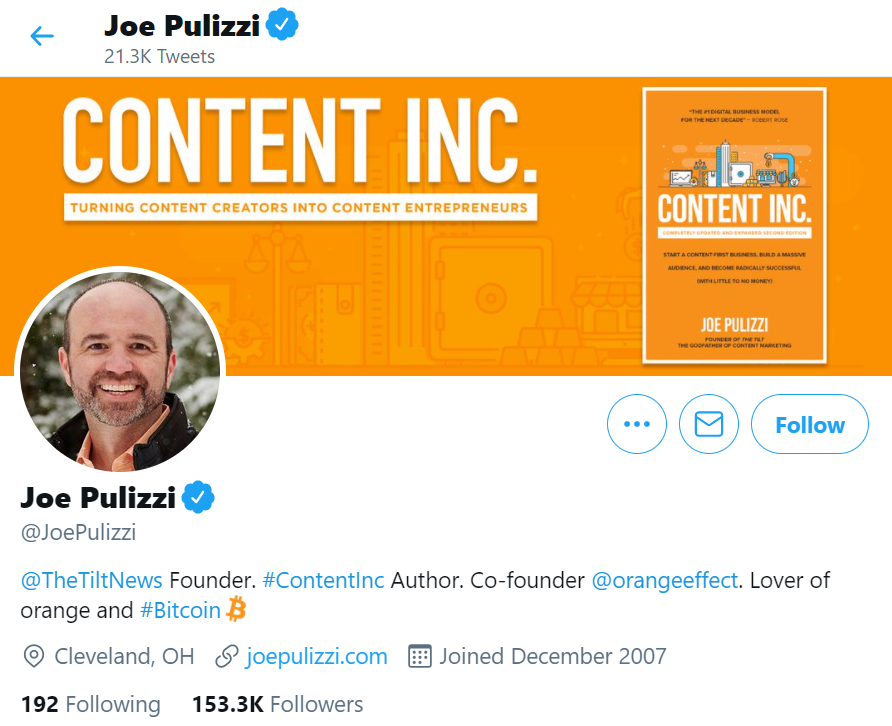 06. Lilach Bullock
Lilach Bullock has been an entrepreneur and passionate blogger for over a decade, writing thousands of articles on her blog and for many other publications. Her Forbes column is all about helping businesses market themselves.
Lilach is highly regarded on the world speaker circuit, and has even graced Number 10 Downing Street. She has been listed in Forbes as one of the "Top 20 Women Social Media Power Influencers" and was crowned the "Social Influencer of Europe" by Oracle. Lilach is a recipient of a "Global Women Champions Award" for her outstanding contribution and leadership in business. Lilach Bullock has 101.1K Twitter followers.
Lilach Bullock's Twitter account: @lilachbullock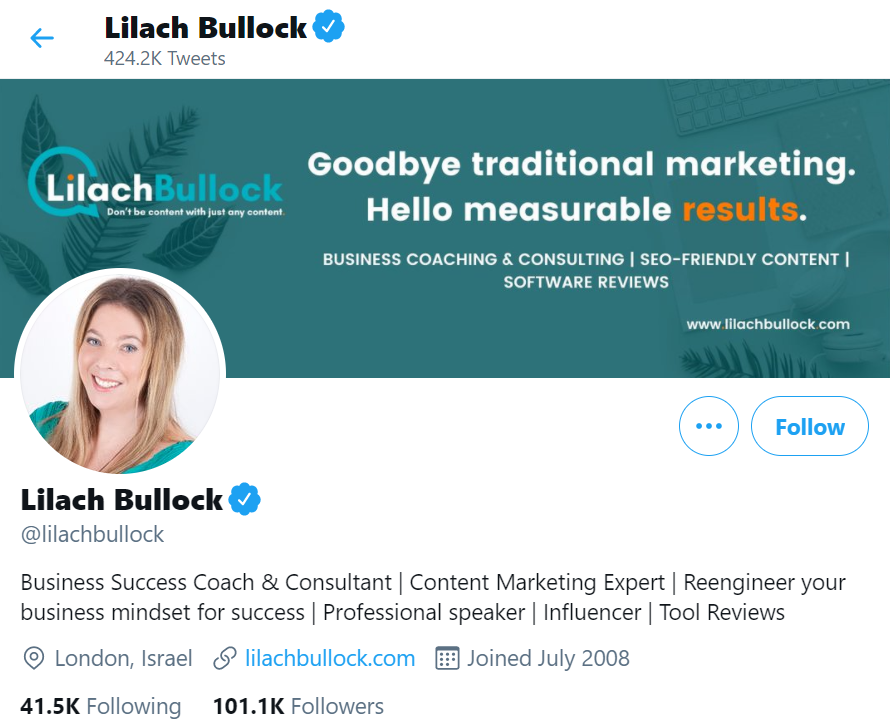 07. Joanna Wiebe
Joanna Wiebe is the original conversion copywriter, creator of Copyhackers. and the copy chief at CH Agency. Companies like BT, Canva, Glowforge, Intuit, MetaLab, Prezi, SAP, Sprout Social and VWO have trusted her to optimize their copy for over 15 years.
Joanna has also been invited by companies such as Mozcon, INBOUND, SearchLove and CXL Live to teach conference audiences to write copy that converts. Joanna Wiebe has a Twitter following of 39.7K.
Joanna Wiebe's Twitter account: @copyhackers
08. Ross Simmonds
Ross Simmonds is the founder of Foundation Marketing, a content marketing agency that combines data and creativity to develop and serve ambitious brands. Ross and the team at Foundation have launched marketing initiatives that reach millions of people on channels like Instagram, Slideshare, Facebook, Twitter, YouTube and more. In addition to running Foundation Marketing, Ross is the founder of a wide range of different businesses including Hustle & Grind, an eCommerce brand described as the voice of modern entrepreneurs.
Over the years, Ross has been published or featured in publications such as Forbes, Venture Beat, the Huffington Post, Mashable, BET and CBC. He's spoken at global conferences about digital marketing for small, medium, and enterprise brands. Ross was named in Mashable as one of the top Snapchat marketers in the world and writes regularly about marketing at RossSimmonds.com. Ross Simmonds has 28.8K followers on Twitter.
Ross Simmonds's Twitter account: @TheCoolestCool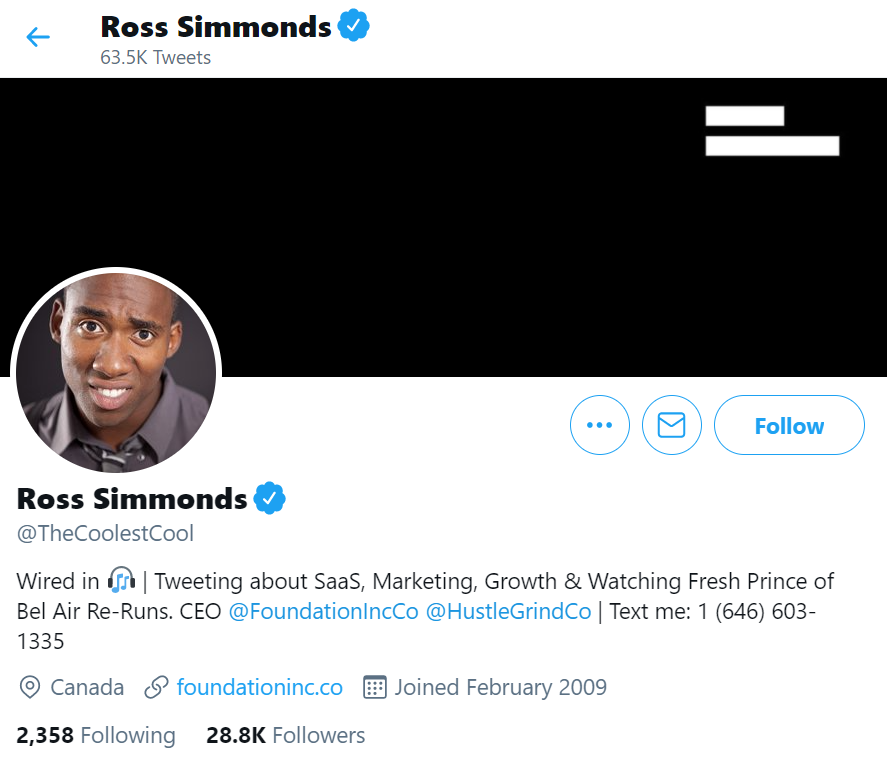 09. Jesse Wisnewski
Jesse Wisnewski is Marketing Director for the SaaS company, PhoneBurner. He served as the Content Manager for best-selling author, Jeff Goins and is the author of one book (which he says no one bought). Jesse has contributed content for Observer, The Muse, Salesforce, Thrive Global, and more. He is a certified Content Marketing Specialist, Direct-Response Copywriting, Analytics and Data Specialist, and Ecommerce Marketing Specialist.
Recently Jesse took over ownership of Copybot from writing coach and Copyblogger author, Demian Farnworth. His goal there is to provide actionable advice on how to use content to connect with people and compel them to action. Jesse Wisnewski has a Twitter following of 26.7K.
Jesse Wisnewski's Twitter account: @thejessew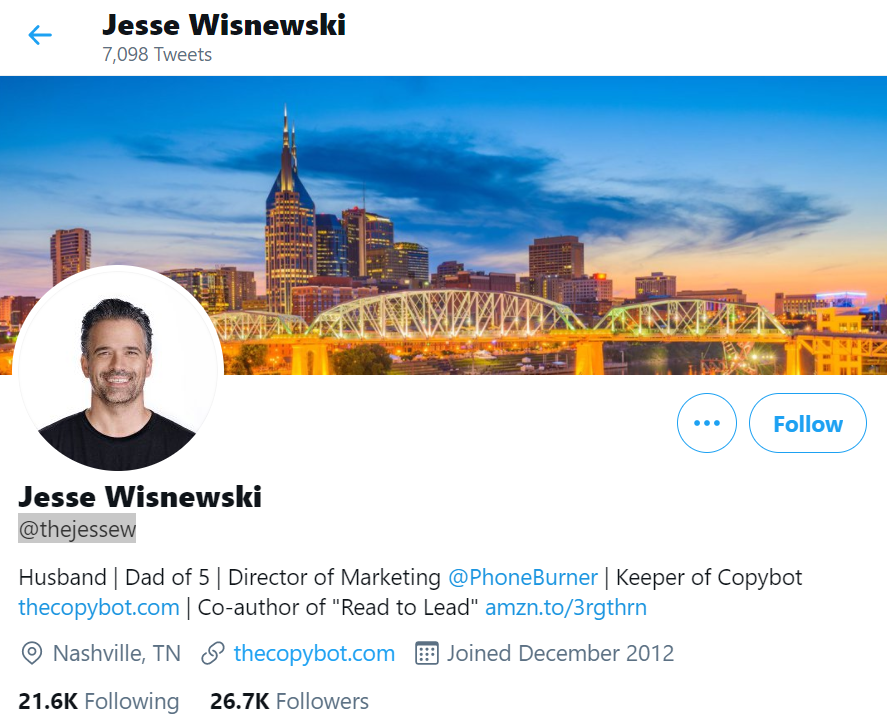 10. Sonia Simone
Sonia is a founding partner of Copyblogger Media (now Rainmaker Digital) when it formed in 2010, and serves as the company's chief content officer. She has a long background in traditional marketing, both with startups and in more established corporate environments. She also created and ran a well-received marketing course for small business, The Remarkable Marketing Blueprint.
Sonia is a veteran of social media (she first got online in 1989), and as the content marketing revolution is evolving, she's finding that her "once-weird" ideas are becoming mainstream. Sonia is the publisher emeritus of the Copyblogger blog, as well as leading the virtual community for content marketers, Authority. Sonia Simone has 24.9K followers on Twitter.
Sonia Simone's Twitter account: @soniasimone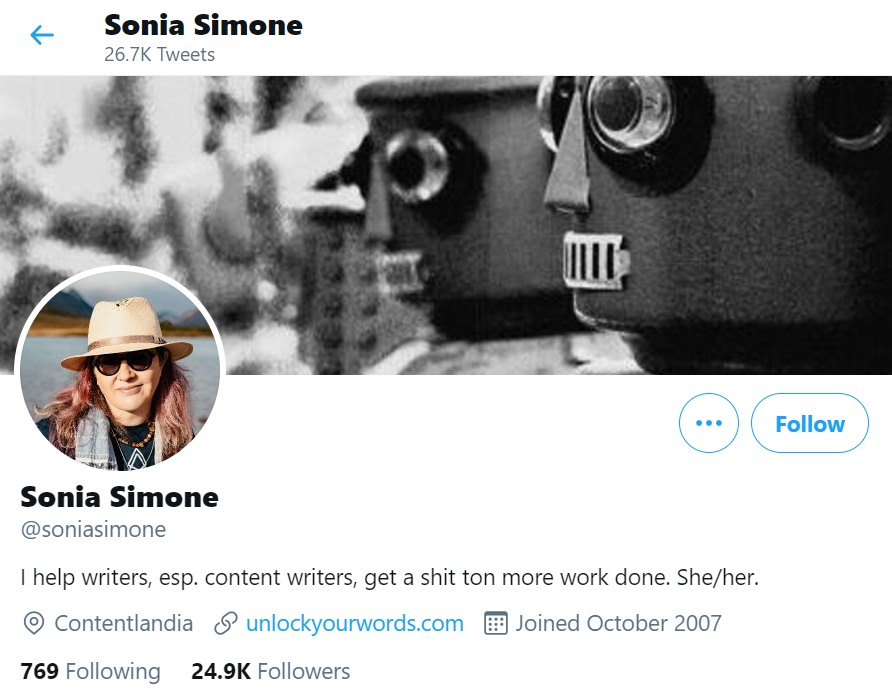 11. Aaron Orendorff
Aaron Orendorff is the founder of iconiContent where he's busy "saving the world from bad content." He is the Vice President of Marketing at Common Thread Collective, an ecommerce growth agency helping DTC brands scale beyond $5M-$30M and helping entrepreneurs achieve their dreams.
Aaron previously served as Editor in Chief of Shopify Plus, with his work appearing in the New York Times, Forbes, Mashable, Business Insider and more. His past client work includes the likes of Facebook, PayPal, Salesforce, and Google. Aaron's byline has appeared on Mashable, Entrepreneur, Fast Company, Business Insider and Success, among others. Aaron Orendorff is followed by 24.8K people on Twitter.
Aaron Orendorff's Twitter account: @AaronOrendorff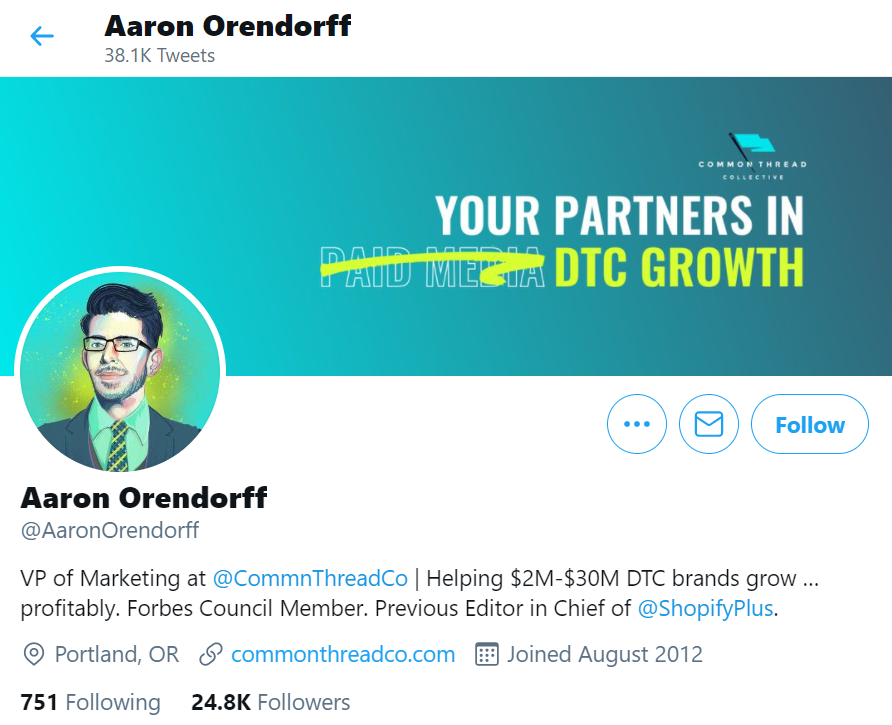 12. Joel Klettke
Joel Klettke penned his first poem at the age of 3. After qualifying with a BComm from the Haskayne School of Business in Calgary, he worked as the Lead SEO Specialist at Vovia Online Marketing, also serving as the agency's resident copywriter. There, he learned about online marketing, leading campaigns for over 40 brands. He also picked up insights into SEO, conversion rate optimization, user experience and online marketing.
In 2013, Joel launched Business Casual Copywriting. He focused on content marketing assets and website copy, working with over 50 clients in SaaS, B2B, digital marketing. Today, he helps clients improve their conversion rates by developing, executing and analysing customer research programs, auditing existing copy and UX for conversion, writing and wireframing new landing pages and websites, and building out full-funnel strategies, including ads, email nurturing campaigns and more. Joel Klettke has a 13.1K Twitter following.
Joel Klettke's Twitter account: @JoelKlettke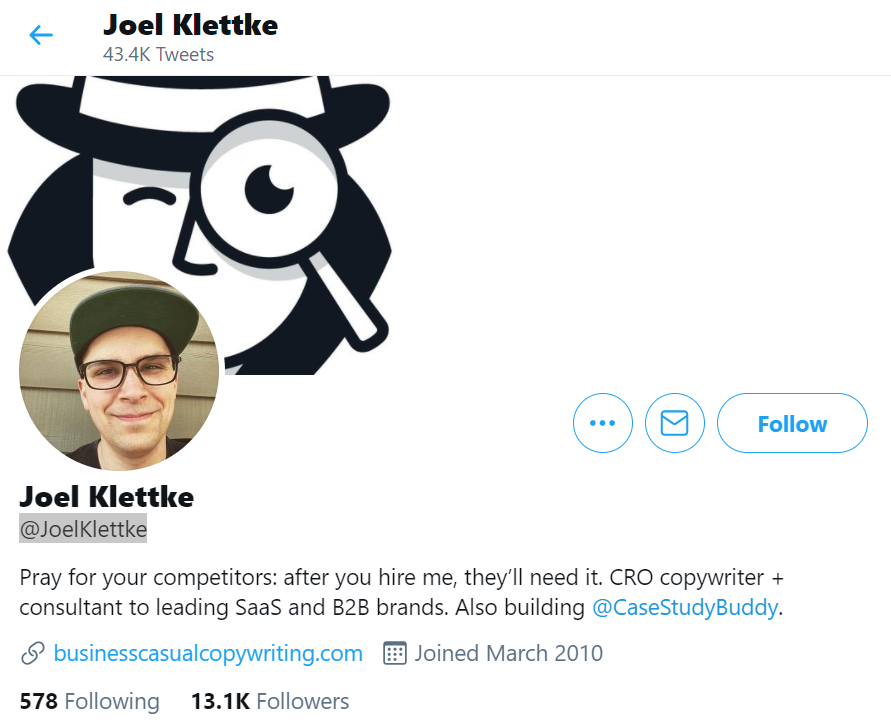 13. Cathy McPhillips
Cathy McPhillips is the Vice President of Marketing for the Content Marketing Institute. Prior to joining CMI, Cathy had 20+ years in marketing, including agency life, B2C, restaurant and non-profit marketing, along with her own marketing consulting business. She is currently a board member for The Orange Effect Foundation.
Cathy oversees all marketing efforts for CMI – events, magazine, research, CMI University and all other CMI properties and happenings. Her goal is to grow the CMI community and audience online and offline. Cathy McPhillips is followed by 12.5K people on Twitter.
Cathy McPhillips's Twitter account: @cmcphillips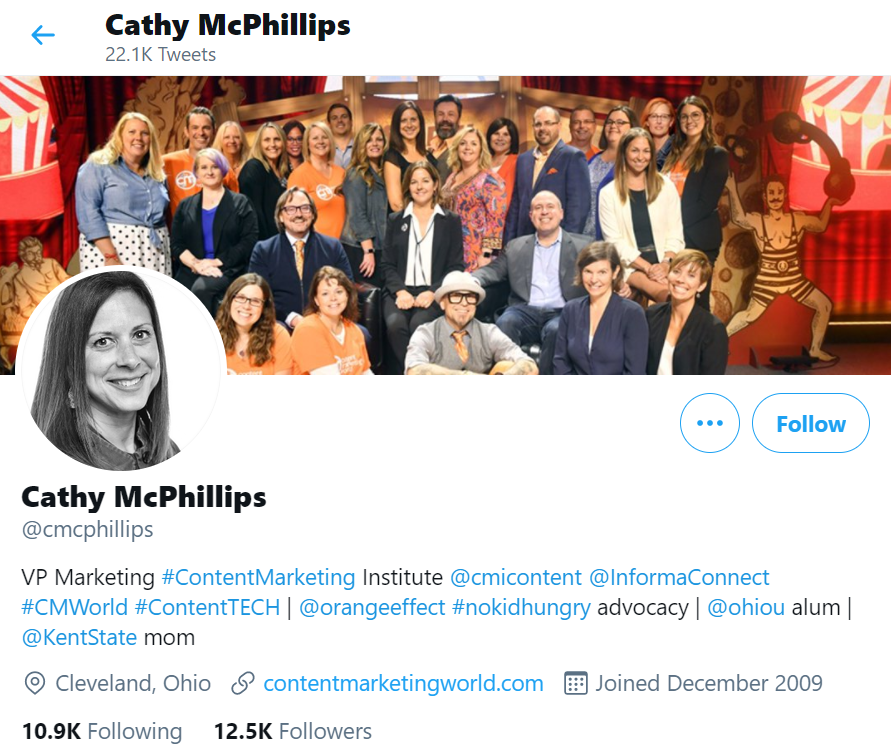 14. Henneke Duistermaat
Henneke Duistermaat founded Enchanting Marketing in 2012. Shortly thereafter she started guest writing for Copyblogger, KISSmetrics and other sites and, thanks primarily to these, soon had a steady stream of copywriting clients from the US and the UK.
She trialed her first business blogging course in 2014 and stopped freelancing in 2015, so that she could concentrate on doing what she loves most: writing and helping others find their voice. With Enchanting Marketing, Henneke teaches clients to evaluate their own writing so that they can make their content more engaging and persuasive. Henneke Duistermaat has a Twitter following of 11.4K.
Henneke Duistermaat's Twitter account: @HennekeD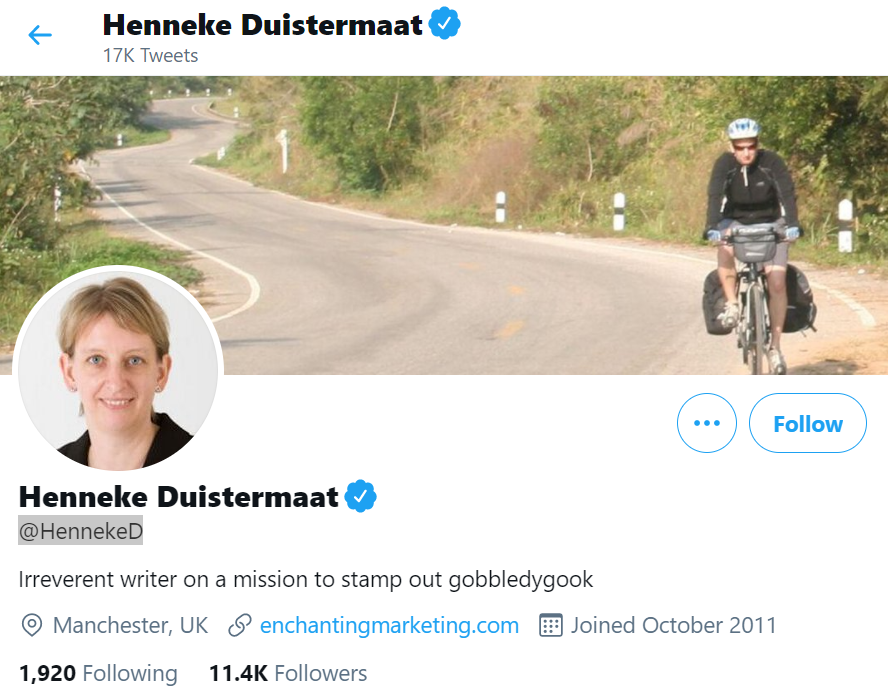 15. Dan Blank
Dan Blank is the founder of WeGrowMedia, where he helps writers develop a human-centred approach to marketing and reaching their audience. He is the author of the book Be the Gateway: A Practical Guide to Sharing Your Creative Work and Engaging an Audience. He has worked with thousands of writers, and amazing organizations who support creative people such as Penguin Random House, Workman Publishing, J. Walter Thompson, Writers House, The Kenyon Review, Writer's Digest, and many others.
Dan's days are spent in his private studio creating and working with writers and creators, which has been his full-time work for the past 10 years. He has worked with thousands of writers via consulting, online programs, mastermind groups, in-person workshops, webinars, and summits. Dan Blank has a 10K Twitter following.
Dan Blank's Twitter account: @DanBlank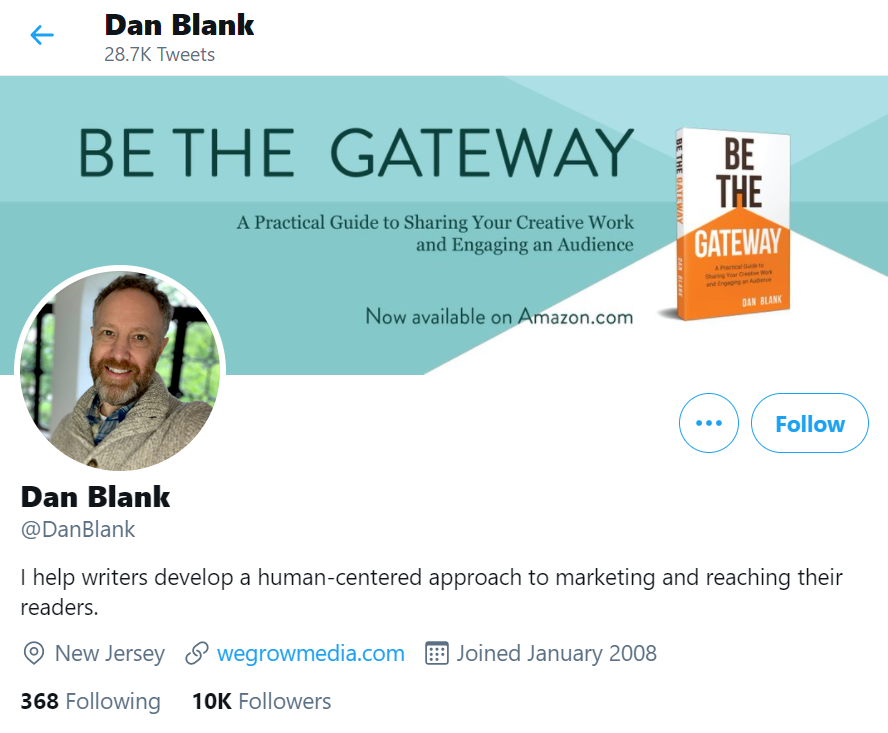 16. Samar Owais
Samar Owais is an SaaS and eCommerce Strategist and Copywriter who increases conversions and reduces churn with her specialised emails. She owns a successful website and has strategized and created a number of successful retention-focused sequences for SaaS, and customer lifecycle and promotional email sequences for eCommerce.
Samar specialises in creating email journeys that turn subscribers into customers by compelling them to return again and again. She has written emails for CBD brands, health supplements, beauty brands and even hot sauces! Samar describes herself as knowing "wayyyy more than the normal person about hemp seeds, gut health, and organic ingredients used in skincare products." Samar Owais is followed by almost 9.9K people on Twitter.
Samar Owais's Twitter account: @samarowais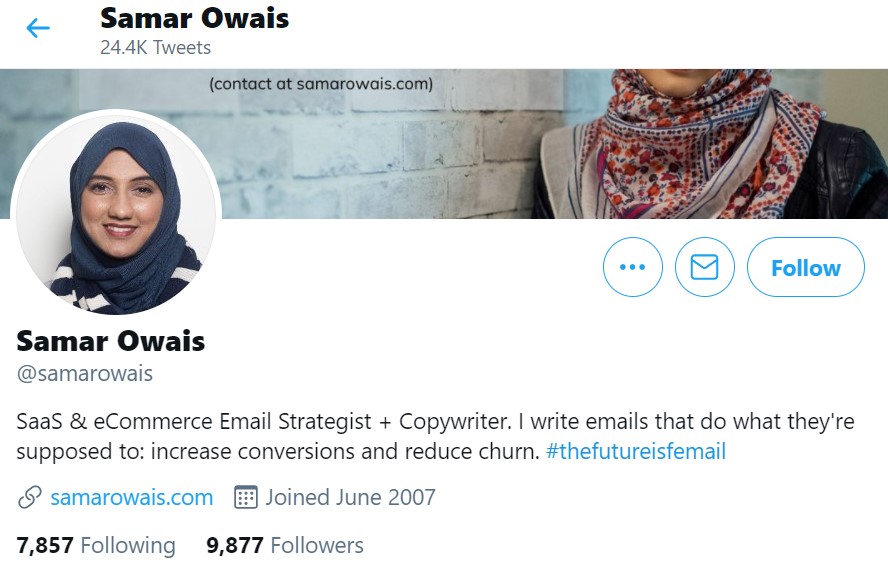 17. Brittany Berger
Brittany Berger is a 'Minimalist' Content Marketer who helps overwhelmed and burnt out marketers stop overworking with their content and start to use the goldmine of old content they're sitting on through smart updating, optimizing, and remixing. She calls herself a "content DJ" who has a knack for simplifying strategies, figuring out the easiest way to get a job done, and finding creative ways to leverage work she's already done.
Brittany's website offers marketers ways to discover the new opportunities hiding in their old content. A one hour coaching call will entail going through their business plans and existing content to brainstorm and prioritize ways to simplify and optimize them to work smarter. Brittany Berger's Twitter following tops 9.3K.
Brittany Berger's Twitter account: @thatbberg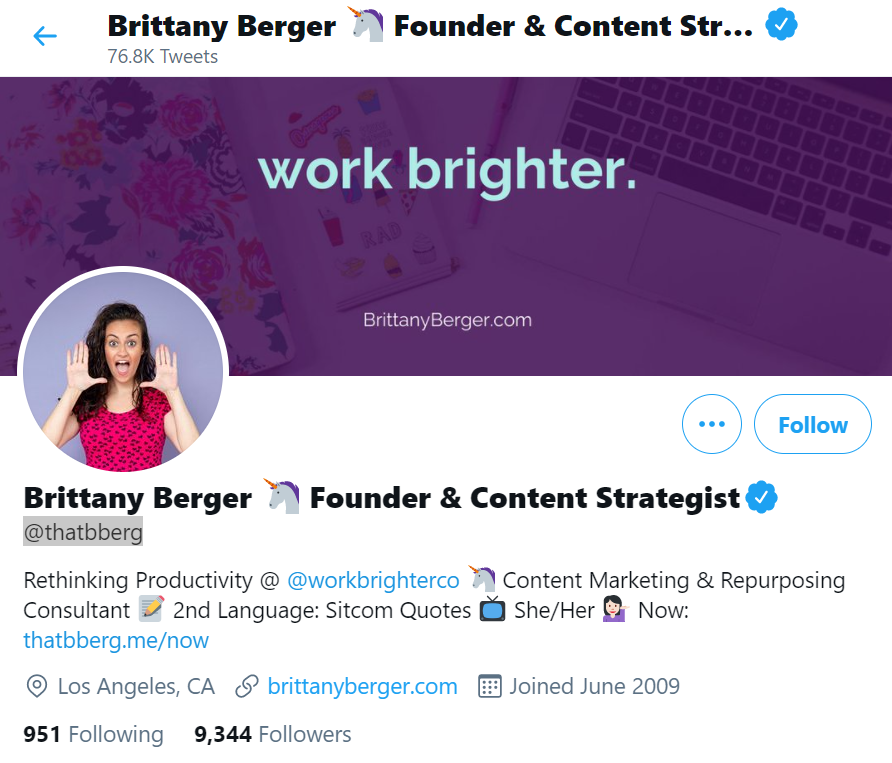 18. James Chartrand
James Chartrand is the founder and owner of Men with Pens and Damn Fine Words. She (yes, she) rose through the ranks to become a leading copywriter, problogger, business expert, published author, course instructor and renowned online entrepreneur. James has built two world-recognized businesses from scratch, including a Top Ten blog and several writing courses that teach business owners valuable lifetime skills.
James has featured in Forbes, Intuit, Newsweek, the New York Times, MarketingProfs and the Huffington Post. She gives frequent interviews and writes regularly for well-known A-lister sites like Copyblogger. James Chartrand has almost 8.8K Twitter followers.
James Chartrand's Twitter account: @MenwithPens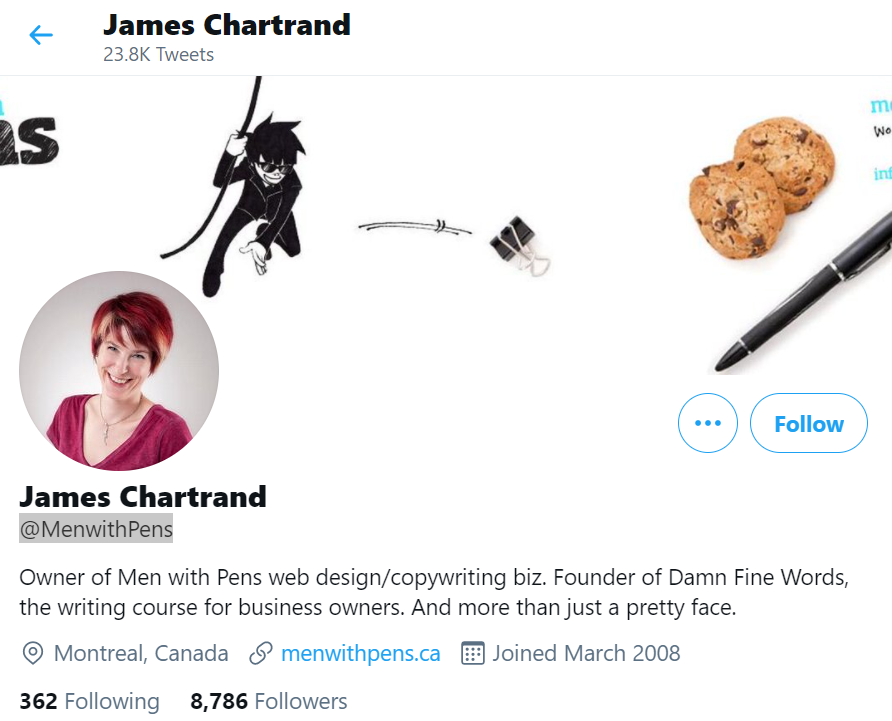 19. Nick Usborne
Nick Usborne's copywriting and consulting career has lasted over thirty years. He has worked with major companies including Apple, Chrysler, Diners Club International, the J. Paul Getty Trust, MSN, Encyclopedia Britannica, the New York Times, Reuters, WebEx, and more. Nick has spoken at numerous online marketing conferences and has conducted in-house seminars and training sessions for many companies including Yahoo!, Intuit, Walt Disney Attractions, and the National Cancer Institute.
Online, Nick has his own website and has also written hundreds of articles for Clickz.com, MarketingProfs.com, iMediaConnection.com, Business 2.0 and other online publications. He is also the author of Net Words: Creating High-Impact Online Copy, published in 2001. Today he divides his business time between online copywriting, teaching and consulting. Nick Usborne has over 8K Twitter followers.
Nick Usborne's Twitter account: @nickusborne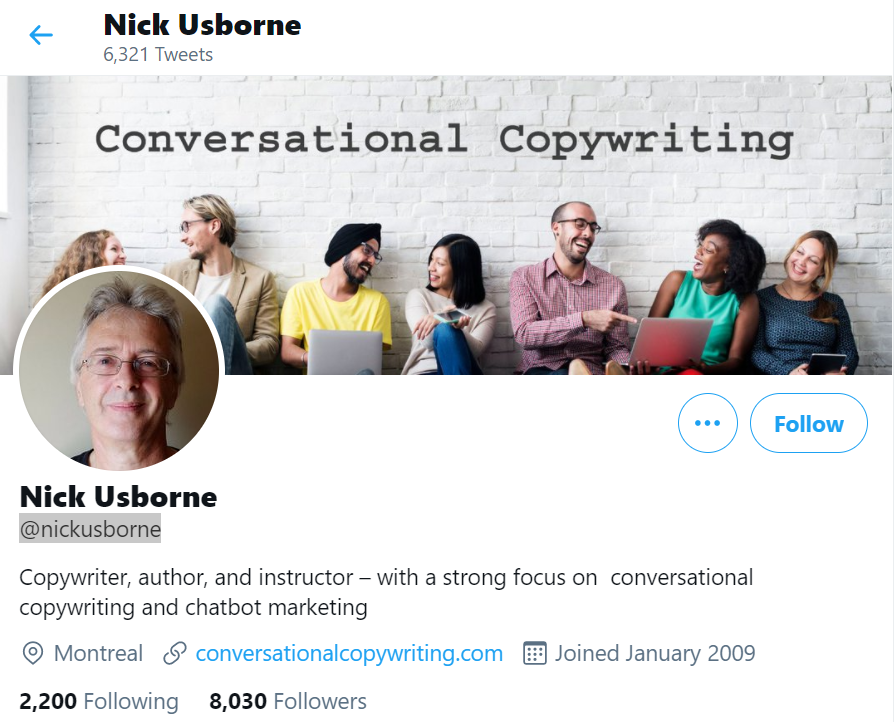 20. Robert Bly
Direct response copywriter Robert Bly has written copy for over 100 clients including Network Solutions, ITT Fluid Technology, Medical Economics, Intuit, Business & Legal Reports, and Brooklyn Union Gas. His awards include the "Standard of Excellence" award from the Web Marketing Association, AWAI's "Copywriter of the Year" and ETR's "Lifetime Achievement Award in Marketing". Robert is the author of 100 published books including Digital Marketing Handbook and The Copywriter's Handbook. He also taught business-to-business copywriting and technical writing at New York University.
Robert runs his own website, writes sales letters, direct mail packages, ads, e-mail marketing campaigns, brochures, articles, press releases, white papers, websites, newsletters, scripts, and other marketing materials. He consults with clients on marketing strategy, mail order selling, and lead generation programs. Robert has appeared as a guest on dozens of TV and radio shows including MoneyTalk 1350, The Advertising Show, CNBC and CBS Hard Copy. He has featured in the LA Times, the New York Post and the National Enquirer, among others. Robert Bly is followed by over 7.8K people on Twitter.
Robert Bly's Twitter account: @Robertbly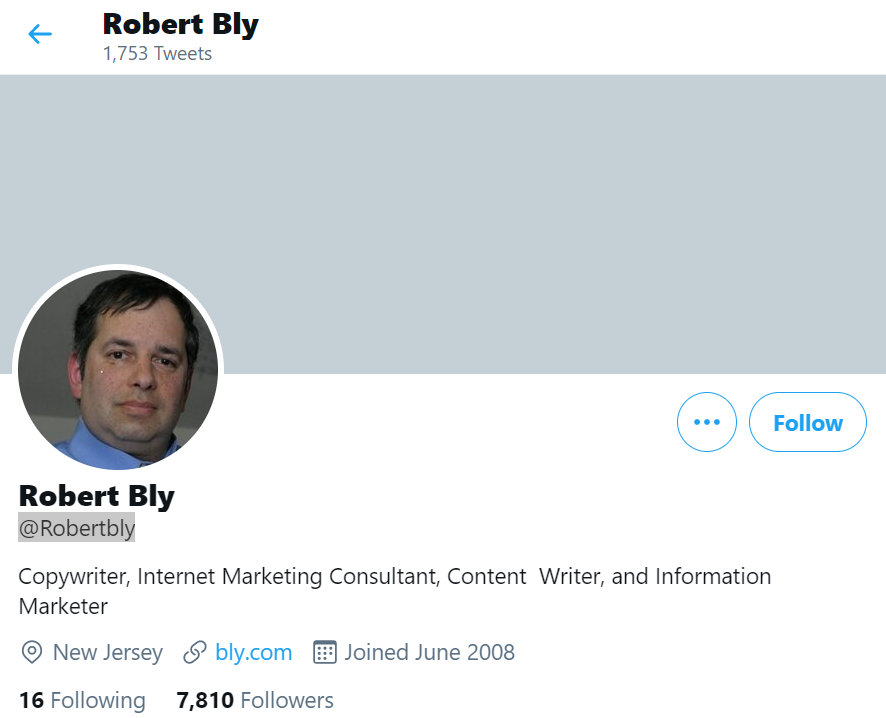 21. Sophie Lizard
Sophie Lizard helps people get things done with words. She creates effective copy and content when needed and sifts and shapes unorganised ideas into valuable books, training products and other assets. Sophie also runs her own website, Be a Freelance Blogger.
Sophie's favourite projects include being an email copywriter at Brainstorm Digital, a senior copywriter & book editor at Mirasee, a copywriter & scriptwriter at The Chi Center, the co-author of How to Pitch a Blog Post, an instructional writer for iHasco, a training content consultant for Imparture, and an online content editor for Chris Brogan's Owner magazine. Sophie Lizard's Twitter followers top 7.35K.
Sophie Lizard's Twitter account: @sophielizard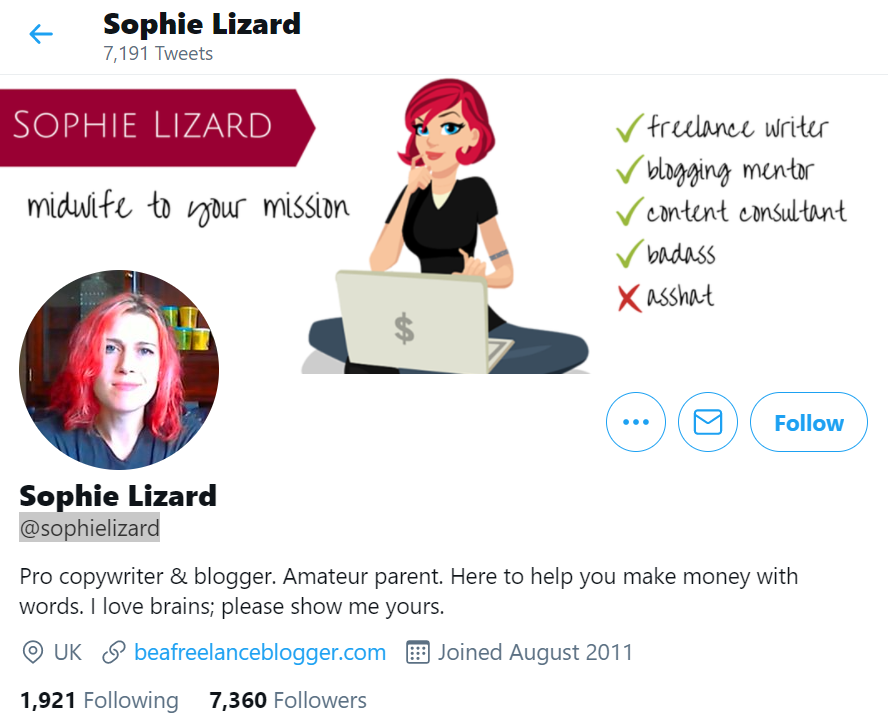 22. Eddie Shleyner
Eddie Shleyner is a Direct Response Copywriter & Content Marketer. He writes about copywriting, content marketing, psychology, leadership and productivity. Joe publishes regular articles on HubSpot, Hootsuite and Forbes.
He was Editor-in-Chief of The Workforce Blog and also worked as a direct response copywriter for Career Builder where he wrote conversion copy for companies including The North Face, GEICO, Swatch, and Google. In 2013, he founded Very Good Copy. Today, Eddie works with organisations worldwide, creating articles and eBooks, landing pages, website copy, and emails campaigns. Eddie Schleyner has more than 6.8K Twitter followers.
Eddie Shleyner's Twitter account: @VeryGoodCopy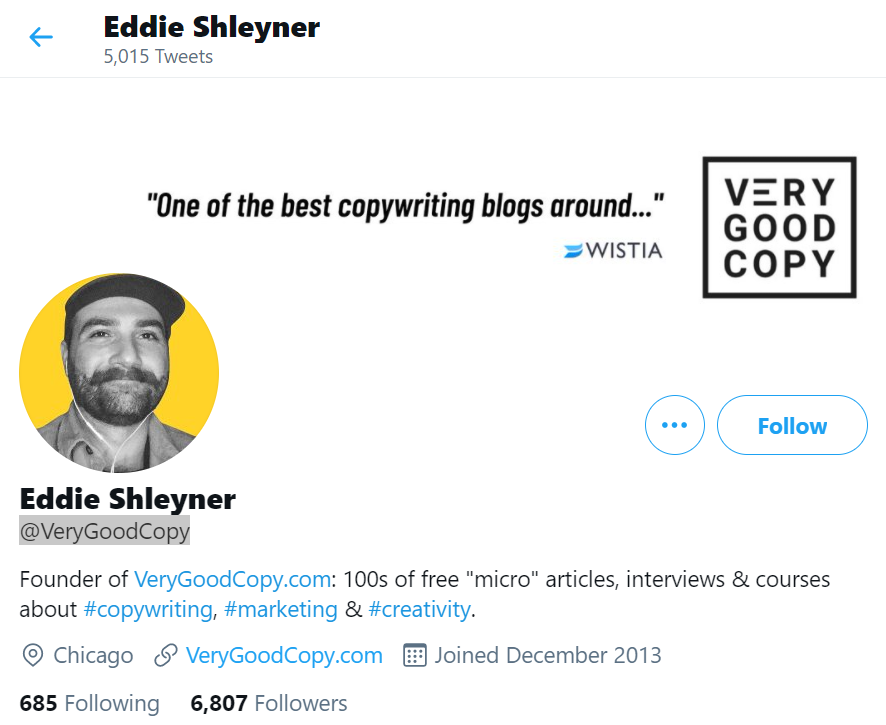 23. Sydni Craig-Hart
Sydni Craig-Hart is CEO of Smart Simple Marketing, a minority-owned, woman-owned content marketing agency. Dealing with SMB, B2B and B2SMB marketing, Smart Simple Marketing helps brands to increase market share. Sydni's tips and marketing advice posts appear regularly on the company blog.
According to her website, Sydni has served 78 different categories of small business and is trusted by a number of well-known brands including Facebook, the Family Business Association, the Hewlett Packard Enterprise, IKEA and Verizon Wireless. Sydni Craig-Hart has over 4.7K Twitter followers.
Sydni Craig-Hart's Twitter account: @SydniCraigHart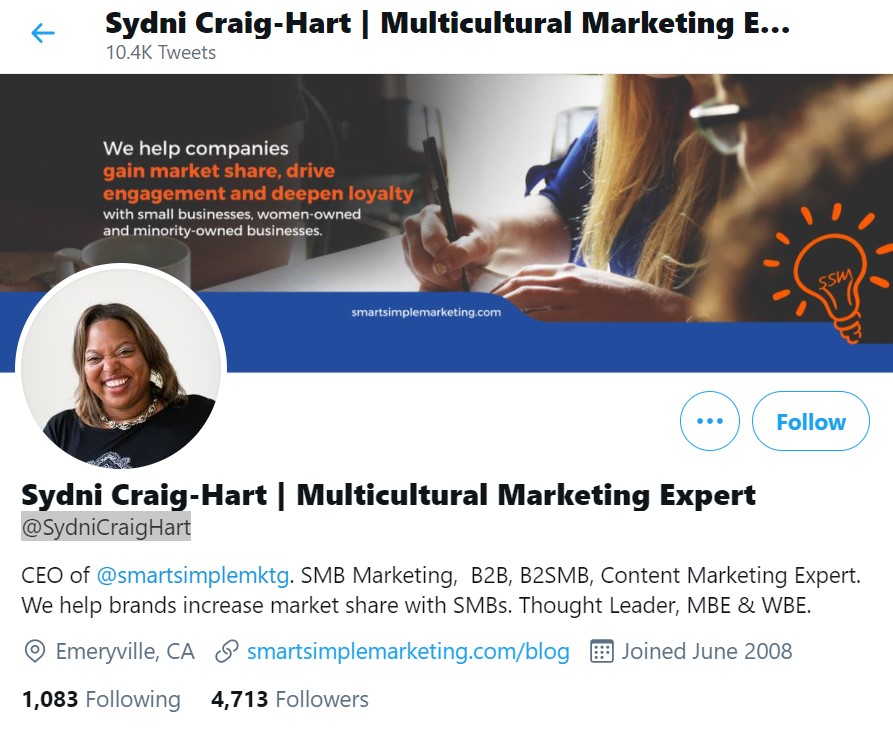 24. Amy Harrison
Amy Harrison is a copywriter based in Brighton in the UK. She originally trained as a screenwriter, taking those skills into business storytelling and marketing. Amy runs Harrisonamy Copywriting, which offers copywriting, consultancy and training. She works with a variety of businesses from one person start-ups to multinational companies.
Amy also owns Write With Influence. She has a weekly column, podcast (with sketches), and a copywriting course for business owners who want to master the fundamentals of persuasive writing. She has reached thousands of business owners, service professionals and other copywriters around the world, and improved their copywriting skills. Amy Harrison is followed by over 4.6K people on Twitter.
Amy Harrison's Twitter account: @HarrisonAmy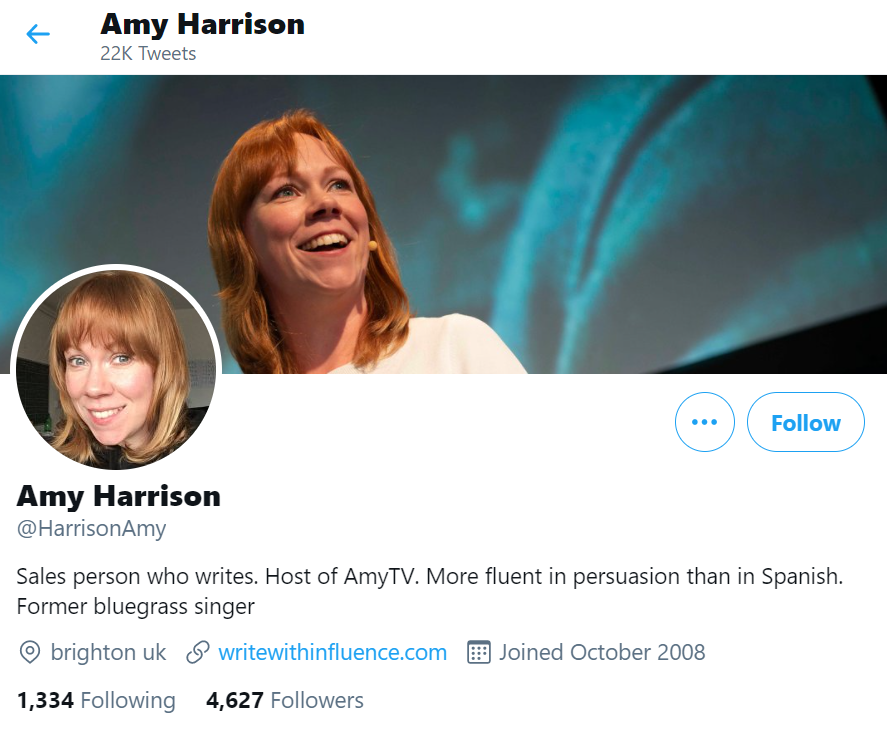 25. Sharon Hurley Hall
Sharon Hurley Hall is an experienced freelance B2B content writer who assists with attracting site traffic and engaging core audiences with her content. Her background in trade journalism means that her research skills are second-to-none and deadlines are sacred.
Sharon describes herself as an anti-racism activist and educator, running a site called Sharon's Anti-Racism Newsletter. She also hosts an up-to-date personal blog. Sharon Hurley Hall's Twitter account has over 3.9K followers.
Sharon Hurley Hall's Twitter account: @SHurleyHall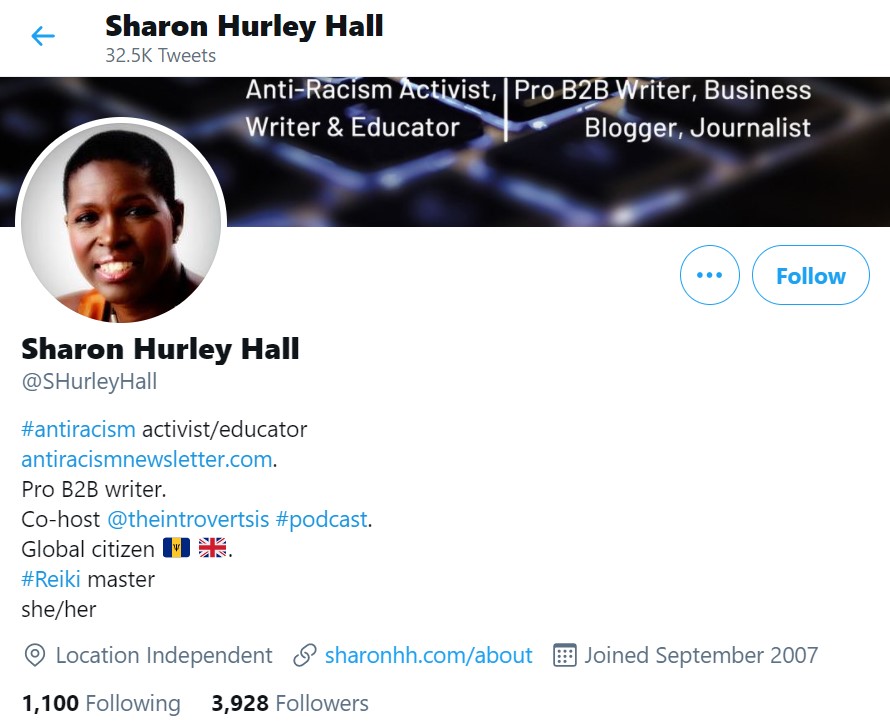 In Conclusion
I'm sure you will agree that we've included a number of the top names and faces in the Content Marketing industry in this list. There will always be those that have been left out as the competitive nature of this field leaves place for much discussion about who does, in fact, deserve inclusion among 25 of the Top Content Marketers on Twitter.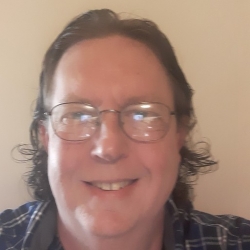 Latest posts by Warren Potter
(see all)
0